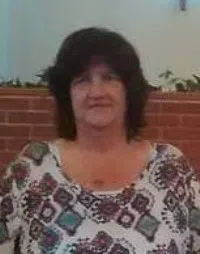 Jane (Barfield) Carlock, 62, of Cowden, IL passed away on Sunday, November 18, 2018, at Barnes-Jewish Hospital in St. Louis, MO.  Lockart-Green Funeral Home is assisting the family.
She was born August 10, 1956, in Decatur, the daughter of Donald and Patricia (Carlisle) Barfield.  She married Louis Carlock on December 15, 1973, in Cowden.
Surviving are her husband, Louis Carlock of Cowden; sons:  Jr (Amber) Carlock of Cowden and Jerome (Kayla) Carlock of Shelbyville; grandchildren:  Isabella (Brian) Moore of Edgewood, Cheyanne and Ian Carlock, Chase Campbell all of Cowden, Cody Rohdemann of Shelbyville, Gabby Nope, Remington and Maci Carlock all of Shelbyville; sisters: Linda (Larry Severe) Shellenbarger of Cowden and Lorey Bice of Creve Coeur, IL; nephews:  Michael, Homer, Bobby, Nick, Shane Barfield and Zeke Bice; nieces:  Lois Collins and Kendra Severe; uncle Jr (Jane) Carlisle and aunt Joanne (John) Severns.
Preceding her in death were her grandparents Homer and Pansy Carlisle, parents, stepfather Loren Evans, brother Jim Barfield, uncle Buck Carlisle and niece Heidi.
A Celebration of Life will be held at 10:00 a.m. on Saturday, December 15, 2018, at the Cowden Community Center with Pastor Steve Neville officiating followed by a gathering for family and friends.
In lieu of flowers, memorials may be made to the family.