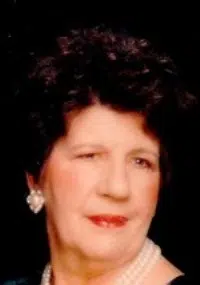 LaDonna Grace Krutsinger, age 84 of Kinmundy, passed away at 8:20 am, Thursday, July 19, 2018, in Kinmundy, IL.
LaDonna was born Monday, February 19, 1934, in Marion County, the daughter of the late Lewis Burkett and the late Sarah (Kirby) Burkett. On April 1, 1957, she was united in marriage to Ralph Krutsinger at the Broadway Christian Church in Salem.
She spent her time as a homemaker and was a member of Meacham Baptist Church.
LaDonna is survived by sons, Doug and Jeff Krutsinger of Kinmundy; and daughters, Nancy Krutsinger of Kinmundy and Linda (Shawn) Holmes of Opdyke, IL.
She was preceded in death by her parents, husband, daughter Janet Fleck, brothers Forrest, Gene and Bob Burkett, sisters Alice Curry, Audrey Soper, Betty Prather, Rosemary Betts, Vera Sullens; and granddaughter Danielle Fleck.
Arrangements will be handled by the Neal Funeral Home in Kinmundy, where family will receive friends from 1:00 pm to 3:00 pm, Sunday, July 22, 2018. A funeral service will be held at 3:00 pm on Sunday following the visitation. Interment will be in Elder Cemetery, rural Kinmundy.
Memorial contributions may be made to Meacham Baptist Church and will be received at the funeral home.