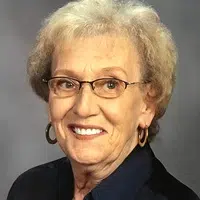 Jacqueline E. Kersey, 87, of Effingham passed away on Friday, June 15th, 2018

  

at her home in Effingham.

 

A memorial service will be held at 11:00 a.m. Saturday, June 30, 2018, at Bauer Funeral Home in Effingham, with visitation being held from 10:00 a.m. until time of service.

The former Jacqueline E. Steele, daughter of Herman and Thelma Steele was born on March 5th, 1931 in Effingham at St. Anthony Memorial Hospital. She was a 1949 graduate of Effingham High School. She was united in marriage to George G. Kersey on November 11th, 1950.

Jackie was a very caring wife, mother, and grandmother. She always told it as she saw it and had a special place in many peoples' hearts. Jackie was dearly loved by all her children, grandchildren, great-grandchildren, and her very special friends. She was a beautician by trade and operated a salon out of her home. 

She is survived by her 5 children, Michael of Jacksonville, FL, Jay (wife, Ruth) of Effingham, Jan (husband, Sam) Tucker of Argenta, Colleen (husband, Todd) Gartner of Paducha, KY, Brian (wife, Kim) Kersey of Effingham; her 14 grandchildren, Adrienne, Nicole, Jason and wife Melissa, Jennifer and husband Adam, Jake, Dustin, Ryne and wife Crystal, Madison and husband Justin, Ashley and husband Chris, Colin, Alissa, Delanie, and Logan; and 10 great-grandchildren Triston, Roman, A.J., Emma, Alexis, Evalyn, Theran, Finley, Kason, and Hattie. 

She is proceeded in death by her parents; Herman and Thelma Steele; her husband, George Kersey, and siblings; Gene Steele, Joan Stodden, and Gary Steele; and one granddaughter, Jessica Epperson.