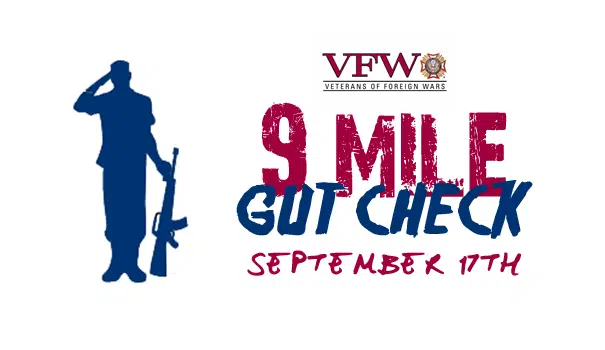 The 9 Mile Gut Check
Brownstown Veterans of Foreign Wars Post # 9770
No One Does More For Veterans!!
Who:   YOU!
What:  A nine mile walk/run
When: 8:00 AM September 17, 2016
Where:  The 9 Mile Gut Check will begin at the American Legion in Vandalia and will end at the VFW Post in Brownstown.
Why:  The Brownstown VFW is one of the smallest but most active posts in the area and strives to continue to the mission of the organization by providing financial, social and emotional support to members of the Armed Forces, veterans and their families. ALL of the money raised from the event will go directly to the VFW and will be used to continue to serve veterans and their families.
This year we will be walking/running in honor of National POW/MIA Recognition Day to remember all of our Prisoners of War and Missing in Action
All registered participants will receive a 9 Mile Gut Check T shirt. A meal and refreshments will be served at the Brownstown Post after the completion of the walk/run. Registration fee is $35 per person. A $10 donation will be requested from individuals who choose not to participate in the walk/run but would like to attend the meal.
We are currently looking for participants, sponsors and volunteers for the event!!! Sponsors company name/logo will be printed on the back of our event t-shirts.
Like our Facebook page!! E-mail rpontious@yahoo.com for questions!
Every little bit helps!!! Please help the VFW support our troops and veterans!
Mail registration forms to Brownstown VFW Post # 9770, P.O Box 27, Brownstown IL, 62471 or drop them off at Fayette County Real Estate