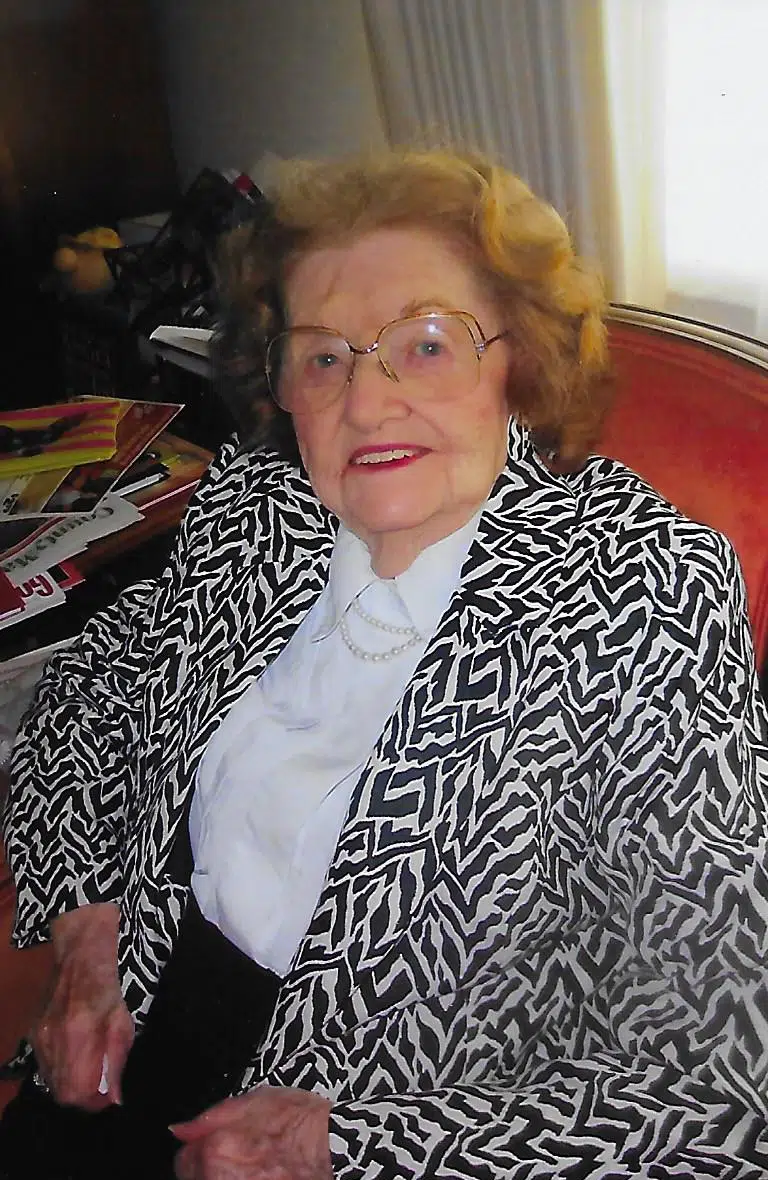 Helen D. Edwards, 95, of Vandalia, Illinois, passed away Saturday, December 1, 2018, at her home in Vandalia, IL, surrounded by love ones.
Services will be held at 11:00 AM, Tuesday, December 4, 2018, at Miller Funeral Home, Vandalia, IL , with Pastor Joe Lawson officiating. Burial will follow at Fairlawn Cemetery Vandalia, IL, Visitation will be held from 9:00 AM to 11:00 AM, Tuesday, December 4, 2018, * before the service. Memorials: Friends & Families of Fayette Co. Hospital, Evans Public Library, Vandalia, IL and Red Bud Elementary School. Miller Funeral Home, Vandalia, IL, is in charge of arrangements. Online memories and condolences may be shared with the family at www. millerfh.net.
She was born May 29, 1923 in Moweaqua, IL, the daughter of Oral & Mirabelle (Walker) Walker. Married Bruce Edwards January 29, 1951, He passed away August 17, 1962. She met her beloved companion of 43 years, Lyle Jones, in 1966. He passed away in 2009.
Helen attended Vandalia schools and graduated in 1941 and Brown Business School. Her careers included working for State's Attorney, Richard Royal, Executive Secretary for Selective Service for 19 years and administrative assistant for Fayette County Hospital. Memberships include First Baptist Church- 79 years, Soroptimist International – 50 plus years, past member of Vandalia Women's Club, Beta Sigma Phi Sorority, Habitat for Humanity and Fayette County Hospital Aux. Pink Lady,
She is survived by: Son – Randy Edwards & Janis, Vandalia, IL
Daughters – Debbie Opel & Bill, Red Bud, IL and Pam Mars & Rob, Olathe, KS; 6 beloved Grandchildren – Jennifer Myerscough & Rick, Traci Liefer, Tim Edwards & Jamie, Amy Edwards & Tyler Mullins, Kyle Reiss & Megan and Joe Lockart & Alicia; Beloved Great Grandchildren- Kelsey & Lauren Myerscough, Isabella & Emilee Liefer, Preston, Isabella, Charlotte, Sawyer, Theo Edwards, Marlee Lockart, Kale Reiss; Honorary Grandchildren- John Mars & Kelcey, Seth Mars & Claralyn and Jordan Mars; Honorary Great Grandchildren- Aiden, Alayna, Amelia, Jack, Ollie and Archie Mars; Honorary daughters- Lyn Gartke & Jennifer Hester; Caregiver- Tori Bunker & Bill.
Preceded in death by: Her Parents, Husband, Beloved Companion and Uncle & Aunt – Fred & Thelma Mattes; Honorary Daughter- Chris Mars; Granddaughter- Ashley Reiss.