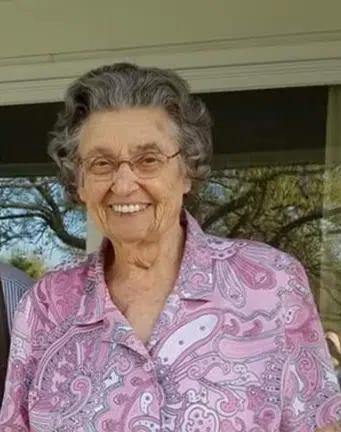 Cecelia "Lorene" Locke, 91, of Vandalia, IL passed way at 11:25 PM Saturday, October 06, 2018 at her home.
A Funeral Service will be held at 11:00 AM, Friday, October 12, 2018 at St. James Lutheran Church, Vandalia with Pastor Krista Stokke officiating. Interment will follow in Fairlawn Cemetery, Vandalia. Visitation will be held from 6:00-8:00 PM, Thursday, October 11, 2018 at Hohlt & File Funeral Home, Vandalia and 1 hour prior to services at the church Friday. Memorials may be made to St. James Lutheran Church, Altamont Lutheran Care, or to the Shriner's Hospital for Children. Online condolences can be expressed at www.hohltandfilefh.com
Cecelia Lorene Locke was born on May 12, 1927 in Vandalia, IL, the daughter of Everett H. "Pete" and Lucille A. (Janetzky) Hulskotter. She married Lewis D. "Cy" Locke on April 12, 1947; together they had four children and celebrated 71 years of marriage.
Lorene was a retired secretary for the Petroleum Museum in Midland, TX; she was also formerly employed by Exxon Credit Union, Midland, TX; LB Hoss, St. Elmo, IL; and Boley's Auto Sales, Vandalia, IL. She was a current member of St. James Lutheran Church, the Crawford-Hale American Legion Post #95 Women's Auxiliary, and the ExxonMobil Annuitants Club. Lorene was a former member of the Santa Rita Club in Midland, TX and the Vandalia Women's Club.
She is survived by her husband, Lewis D. "Cy" Locke of Vandalia; sons, Lewis D. "Chip" Locke Jr. of Baytown, TX and Leslie K. "Les" Locke of Dallas, TX; daughter, Lynette K. and husband, David R. White of Vandalia; brothers, James L. "Jim" Hulskotter and wife, Loann of Cleveland, MN and Michael L. "Mike" Hulskotter of Indianapolis, IN ; grandchildren, Morgan, John, David II, Jeremy, Courtney, Julian, and Stacy; and great-grandchildren, Amelia, Zackery, Davin, Hayley, Leif, Marlee, Sven, and Zavier.
She was preceded in death by her parents and daughter, Linda Jo Locke.