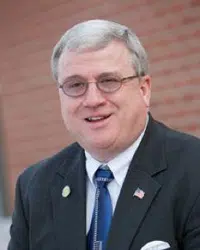 It is unfortunately the times we live in, as Vandalia Mayor Rick Gottman took time at the Vandalia City Council meeting on Monday night to explain a small car accident he was in on Saturday evening.  Mayor Gottman says there are some very untruthful stories out there and he wanted to give the true story to the City Council.
As Mayor Gottman said, the incident then was put on social media and was blown up into much more than it was.  Mayor Gottman also added that he had not been drinking that day.  And, Mayor Gottman says he is prepared to take legal action if it would come to that point.
Mayor Gottman added the insurance companies have been notified and he had made a police report for the accident.  Vandalia Police Chief Jeff Ray informed WKRV-WPMB that two people involved in a car accident, where the damage is less than $1500 and both parties have insurance, are not required to make a police report.