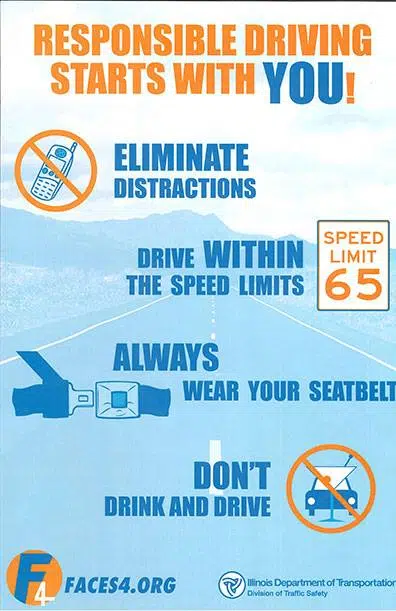 This message from Fayette County Sheriff Chris Smith and the Fayette County Sheriff's Office:
July 25th is Illinois Speed Awareness Day. Many departments will be stepping up their speed enforcement. Please travel safely and watch your speed.
The Mission
To promote EDUCATION, conduct ENFORCEMENT and support continued ENGINEERING advances in an effort to heighten public awareness of the dangers of excessive speed which will lead to the prevention of collisions, deaths, and injuries.
In addition, our mission includes the support of LEGISLATION advances to strengthen the laws and associated penalties of those convicted of offenses related to excessive speeding.
Simply put, the mission of Illinois Speed Awareness Day is to prevent deaths, tragedies, and reduce injuries on our highways due to excessive speeding.
According to IDOT, in 2014:
• There were 296,049 crashes involving motor vehicles.
• Crashes involving SPEED accounted for 32.4% of overall crashes, 34.9% of fatal crashes, and 37.4% of injury crashes.
But, consider this; is not speed a factor in every crash? Speed is indeed a factor in every crash. It just depends on to what extent in terms of property damage, severity of injuries, and the number of fatalities. Remember, speeding is exceeding the posted speed limits AND/OR driving too fast for conditions.
Thanks Sheriff Chris Smith