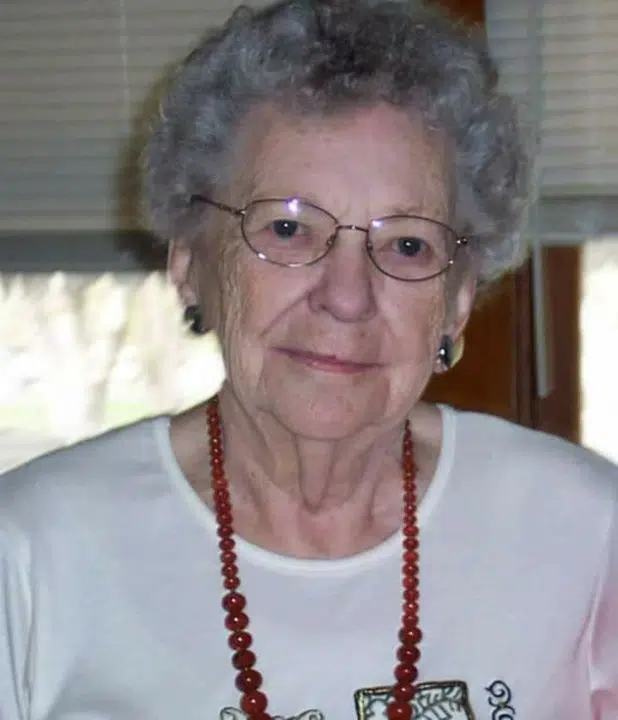 Hazel L. Stevenson, 92, of Vandalia, Illinois, passed away Thursday, May 3, 2018, at Hillsboro Rehab and Healthcare Ctr., Hillsboro, IL.
Graveside Services will be held at 11:00 AM, Wednesday, May 9, 2018, at South Hill/Fairlawn Cemetery, Vandalia, IL, with Pastor Pete LeDuc, officiating. Friends and family may gather at the cemetery at 10:30 AM, Wednesday, May 9, 2018. Memorials: To Miller Funeral Home. Miller Funeral Home, Vandalia, IL, is in charge of arrangements. Online memories and condolences may be shared with the family at www. millerfh.net.
She was born December 31, 1925, in Shobonier, IL, the daughter of William Francis & Mary Sophia (Anderson) Albert. Married Frank "Bud" Meier Stevenson August 9, 1945, Elkton, MD, he passed away August 26, 2001. She was retired Owner/Operator of Vandalia Greenhouse, Vandalia, IL; Member of Crown Point Church, Rural Vandalia, IL and Melrose Chapter 243 O.E.S.
She is survived by: 8 Grandchildren: Serna, Toby, Michelle, Dawn, Todd, Mary Beth, Ashleigh and Danielle; 18 Great Grandchildren; and 1 Great Great Grandchild.
Preceded in death by: Parents; Husband; 2 Sons – Wayne and Toby Stevenson Sr.; 1 Brother – Button; 3 Sisters – Mabel, Estella "Sis", and Mildred.