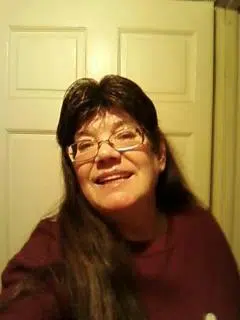 Alma May Torbeck, 63, of Vandalia, IL passed away at 9:27 PM, Monday, April 30, 2018 at Barnes-Jewish Hospital in St. Louis, MO.
A Funeral Service will be held at 1:00 PM, Monday, May 7, 2018 at Crown Point Church, Vandalia with Rev. Pete LeDuc officiating. Visitation will be held prior to services on Monday from 11:00 AM-1:00 PM, at the church. Interment will follow in Farmer's Cemetery, rural Vandalia. In lieu of flowers, memorials may be made to Hohlt & File Funeral Home to help with funeral expenses. Online condolences can be expressed at www.hohltandfilefh.com
Alma May Torbeck was born on February 26, 1955 in Litchfield, IL, the daughter of Floyd E. Hicks Sr. and Betty J. (Atkins) Hicks. Alma was a retired certified nursing assistant at Cherrywood in Vandalia. She attended Crown Point Church and had an avid love for flowers.
She is survived by her mother, Betty Hicks; daughter, Mandy Blackwell; grandchildren, Sabrina Warner and husband Caleb, Zach Greer, and Barbie Greer; great-grandchildren, Aubrey Beal, Christopher Beal, Bentley Beal, Gracelynn Warner, and Jordan Warner; brothers, Randy Hicks and special friend Patsy Tinker, Timothy "Timmy" Hicks, Terry Hicks and wife Sherry, Michael Hicks and wife Cyndi,
Howard Hicks and wife Ashley, Brian Robertson and wife Christy, and Floyd Hicks III; and sisters, Cheryl and husband Edward "Brian" Tedrick, Mary McNealy, Tonya Hicks, Tina Bennish, Jennifer and husband Jason Hill, and Michelle and husband Richard Temples.
She was preceded in death by her father, Floyd Hicks Sr.; grandparents, Beulah and Harry Cohoon; and brother, Patrick Hicks and Floyd "Butch" Hicks.