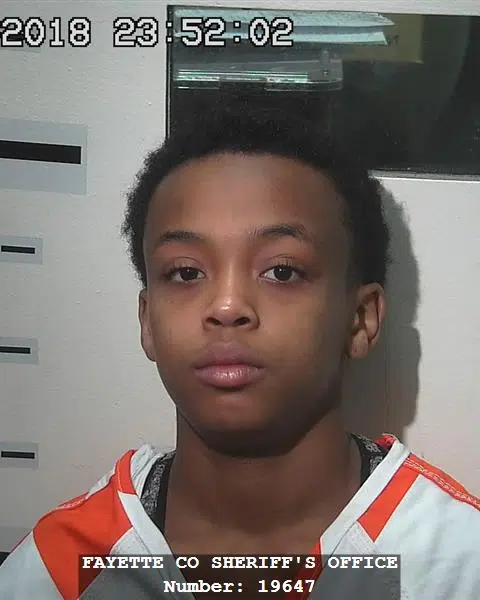 An 18 year old Springfield woman is in custody at the Fayette County Sheriff's Office after allegedly attempting to run from a traffic stop and allegedly injuring a Fayette County Sheriff's Deputy in the process.
In a release from Fayette County Sheriff Chris Smith, it states the incident occurred at 6:41 pm on Tuesday evening at the intersection of U.S. Routes 51 and 40.  In the release, it states the Deputy is alleged to have smelled and observed illegal narcotics around the driver.  The release states the Deputy asked the driver to give him the item he saw, and then it's reported that a struggle then began.  The release states the female driver, 18 year old Adriana E. Brown-Gibson of Springfield, then allegedly put the vehicle in drive and drove off, dragging the Deputy down the roadway.
The release says that the Deputy was able to free himself from the vehicle.  Sheriff Smith says in the release that the Deputy was injured but was able to alert the Sheriff's Office Dispatcher of the incident, his injuries and the direction the vehicle was heading.  Sheriff Smith states in the release that Thanks to the help from witnesses who were following the vehicle, local officers and deputies were able to locate the vehicle and it was stopped on Interstate 70, westbound, at mile post 65 (2 miles east of the Vandalia/Pana exit).  Brown-Gibson is facing pending charges of Aggravated Battery to a Peace office, Aggravated Assault, Fleeing or Attempting to Elude a Police office, Failure to Give Aid, Obstructing Justice, Reckless Conduct, Hit & Run, Speeding, Operating an Uninsured Vehicle, Driver License not on person and Possession of Cannabis.  The Deputy was transported to Barnes Hospital in St. Louis and was later released.
Sheriff Smith says in the release a Thank You to the help from the community on their help in apprehending the suspect without further incident.  Sheriff Smith says they were assisted by the Vandalia Police Department. St. Elmo Police Department, Illinois State Police and the Secretary of State Police.