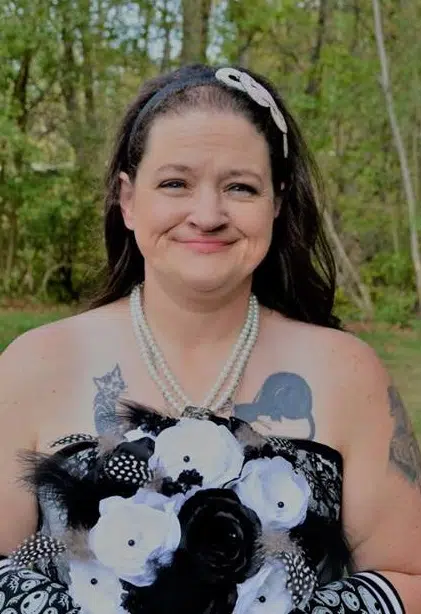 Gina Marie Clark, age 39, of Dieterich, Illinois passed away at 5:17 p.m. Monday, April 16, 2018 at St. Anthony's Memorial Hospital in Effingham, Illinois.
Memorial service will be at 5 p.m. Friday, April 20, 2018 at Pagel Funeral Homes in Edgewood, Illinois. Jim Giffin will be officiating. There will be a visitation before the service, starting at 2 p.m.  Burial will be at Mason Cemetery in Mason, Illinois following the service. Memorials may go to DaVita Effingham Dialysis, Mason Cemetery or the donor's choice. Online condolences may be expressed at www.pagelfuneralhome.com
Gina was born on October 24, 1978 in Effingham, Illinois the daughter of James Overbeck and Sherry Pruemer. She married Bill Clark, her best friend of 12 years and soul mate, on October 21, 2017 at Effingham, Illinois. She enjoyed rock concerts, fishing, going to flea markets, collecting movies and tea pots, Jack and Sally theme and spending time with her family, friends and her fur babies. She was considered a hero to many, especially her family. At the age of 25, she made the brave decision to donate her kidney to ensure her grandfather could have a longer and better quality of life. Her grandfather was her hero and fishing buddy. She had a very outgoing zest for life and loved helping people. She was an avid St. Louis Cardinal's fan.
She is survived by her mother, Sherry Pruemer of Effingham, Illinois; husband, Bill Clark of Dieterich, Illinois; in-laws, Roy and Julie Clark of Willow Hill, Illinois; brother and best friend, Dillan Pruemer of Effingham, Illinois; six uncles, Luke Pruemer of Teutopolis, Illinois, Bobby Overbeck (wife Ann) of Effingham, Illinois, Dan Overbeck (wife Donna) of Effingham, Illinois, Ron Overbeck (wife Cindy) of Effingham, Illinois, Bill Overbeck (wife Cathy) of Effingham, Illinois, and Donnie Overbeck (girlfriend Janice) of Tennessee; one aunt, Mary Klein (husband Don) of Florida; two cousins, Tanner Pruemer and Aerial Simmons; special friend, Bob Wheat of Dieterich, Illinois; several nieces, nephews and friends.
She was preceded in death by her father, James Overbeck; maternal grandparents, Butch and Linda Pruemer; fraternal grandparents, Bob and Ilene Overbeck and her best friend, Peggy Williams.