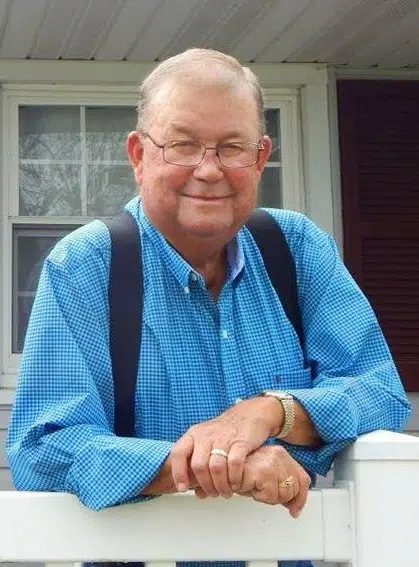 Alvin "Sonny" Arthur Riedle, 79, of Shobonier, IL passed away at 6:30 AM, Monday, April 16, 2018 at Fayette County Hospital LTC.
A Funeral Service will be held at 10:00 AM, Thursday, April 19, 2018 at Holy Cross Lutheran Church, Vandalia with Pastor Jerry Bagwell officiating. Visitation will be held from 5:00-7:00 PM, Wednesday, April 18, 2018 at Hohlt and File Funeral Home, Vandalia and one hour prior to services at the church on Thursday. Memorials may be made to the American Cancer Society, American Heart Association, or Donor's Choice. Online condolences can be expressed at www.hohltandfilefh.com
Alvin Arthur Riedle was born March 28, 1939 in Kaskaskia Township, IL, the son of Forrest Dean and Verna Ann (Lange) Riedle. He married Patricia Lois Opfer on October 11, 1958. "Sonny" was a farmer and also a member of Holy Cross Lutheran Church, where he was a past Elder and Trustee, and the Fayette County Farm Bureau. Sonny loved farming, his family, especially his grandchildren; he and Pat enjoyed spending winters in Naples, FL.
He is survived by his wife, Patricia Riedle of Shobonier; daughter, Catherine Meseke and husband Don of Vandalia; sons, Kent Lee Riedle and wife Beth of Shobonier and Allen Riedle and special friend Stephanie Givens of Vandalia; grandchildren, Andrew Meseke, Amanda Torbeck and husband Tim, and Matthew Riedle, all of Vandalia, Jacob Riedle of Shobonier, and Mary Knoche and husband Dave of Maryville; great-grandchildren, Kiyah, David, and Ethan Knoche; bonus grandchildren, Andrew Stewart, Owen Givens, Ashley, Kelsey, BreAnn and Alisha Swain; brother, Lonnie Riedle and wife Rosalee of Centralia; sisters, Shirley Klay of Vandalia and Brenda Roberts and husband Robin of Denver, CO; brother-in-law, Pete Dalmares of Ponte Vedra Beach, FL; and many special nieces and nephews.
He was preceded in death by his parents, Forrest and Verna Riedle, and sisters, Lois Dalmares and Mary Ellen Riedle