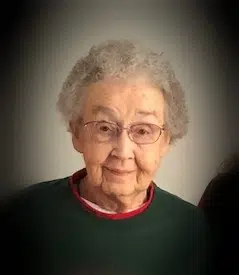 Opal L. Earing, 87, of Vandalia, formerly of the Herscher area, died Thursday, April 5, 2018 at Fayette County Hospital, Vandalia.
A Funeral Service will be held at 11:00 AM, Monday, April 9, 2018 at Unity Baptist Church (185 N), Vandalia with Rev. Robert Weaver officiating. Visitation will be held from 5:00- 7:00 PM, Sunday, April 8, 2018 at Hohlt and File Funeral Home, Vandalia and one hour prior to services on Monday.
Graveside Service and Interment will be held at 2:30 PM, Tuesday, April 10, 2018 at Broughton Township Cemetery. Visitation will be held prior to services from 1:00-2:00 PM, Tuesday, April 10, 2018 at Calvert-Martin Funeral Home, Cullom, IL
Memorials may be made to Samaritan's Purse/Operation Christmas Child or Restore Network, supporting foster and adoptive families.
Online condolences may be expressed at www.hohltandfilefh.com
Opal Earing was born December 3, 1930 in Cooksville, IL to William and Ola Mae Daugherty. She married Melvin Earing, June 10, 1950 in Moorhead, MN. He preceded her in death, April 3, 2003.
She was a member of the Unity Baptist Church and several genealogical/historical societies including Herscher, IL; Breckinridge Co., KY; Fayette Co., IL; and Craven Co., NC.
Previously, she was active as a 4-H leader, Ford County Home Extension member, and past deaconess at Immanuel Baptist Church, Kankakee. She loved taking writing classes, researching genealogy and writing family stories.
Survivors include two daughters, Marsha Nelson, Greenville; and Diane (Steve) Curll, Vandalia; five grandchildren, Michelle (Jeffrey) Sussenbach and Megan (Matthew) McPeak, both of Greenville; Rachel (Joshua) Woods, O'Fallon, MO; Jeremy (Kelly) Curll, Vandalia; Randy (Casey) Curll, St. Louis, MO; eleven great-grandchildren, William, Wesley, Anna, Isaiah, Noah, and Isaac Sussenbach; Caitlin and Andrew McPeak; Jaina and Juliet Woods; Abilene Curll, two step great-grandchildren, Austin and Aubrey Hebenstreit; one brother, William (Nancy) Daugherty, Wolverton, MN; one niece, three nephews and special cousins, Nelda Daugherty and David (Lyla) Homan and family.
She was preceded in death by her parents, husband, and a son-in-law David Nelson.