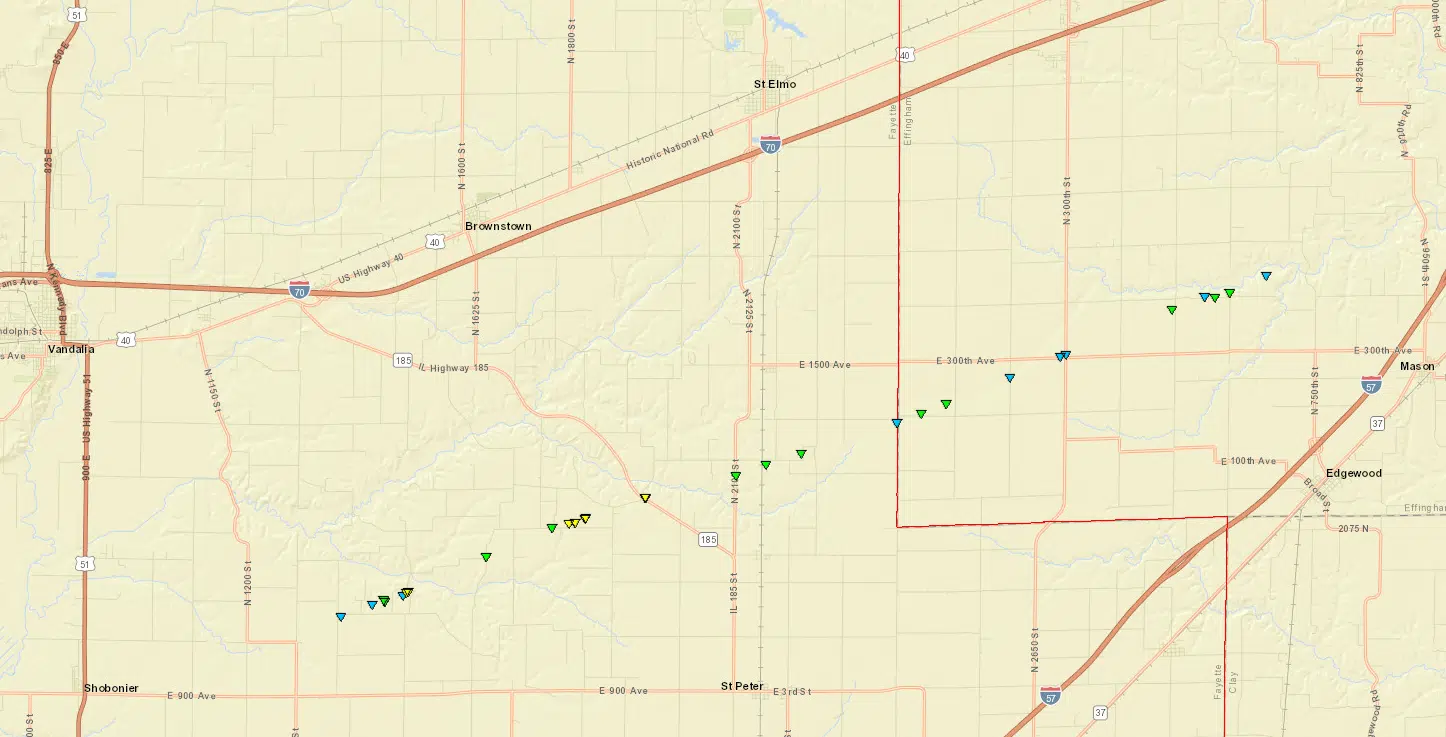 The following is information from the National Weather Service in St. Louis, following their surveying of damaging in Fayette County.
A strong tornado developed around 7 miles southeast of Vandalia around 4:20 pm and traveled northeast to the Fayette/Effingham County line by 4:34 pm.  The first tornado damage observed was near the intersection of E 1050 Avenue and N 1375 Street where a greenhouse lost portions of it's roofing material and suffered other minor damage. The tornado continued northeast toward Gatch Lake causing damage to several outbuildings and one single family residence.  The width of the tornado increase to nearly 100 yards wide and the strength increased from EF-0 to EF-1 during this time period.  The tornado continued northeast causing mainly tree damage until it reached a farm along E1200 Avenue near N1780 Lane.  Here a barn and several silos were destroyed, along with a single wide mobile home.  The damage was rated EF-2.  Thankfully there were no occupants in the mobile home at the time of the tornado.  The tornado continued northeast destroying another outbuilding with the debris being tossed downwind hundreds of yards into the open field.  The greatest tornado damage occurred to a residence near the intersection of Illinois Route 185 and E1250 Avenue.  The tornado destroyed their garage, ripped their roof and southeast walls off of their home.  This damage was also rated EF-2 with winds estimated to be 125 miles per hour.  The tornado began to weaken as it moved northeast only causing minor damage to an outbuilding and downing trees in a narrow path, less than 100 yards wide, to the county line.
Other information from the NWS states the duration of the tornad0 was from 4:20 pm to 4:41 pm on Tuesday afternoon and was classified as an EF-2 tornado at it's strongest point.  The Fujita scales ranges from F-0 to F-5 with an F-2 considered a "strong" tornado.  The path length of the tornado was 18.25 miles and the width was 100 yards.  There were no injuries from the storm.
((((((pic is from the NWS, showing the path of the tornado thru Fayette County)))))