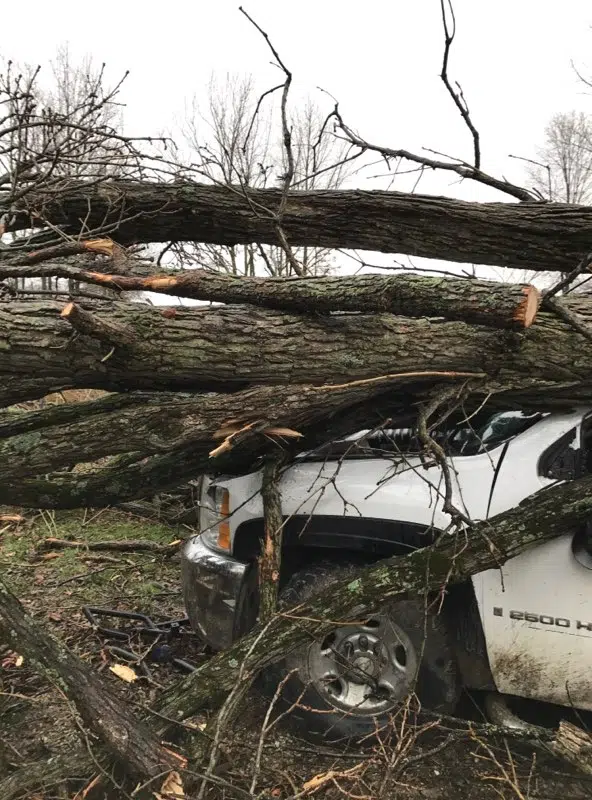 If you live along or north of U.S. Route 40, you mostly saw a pretty "garden variety" thunderstorm on Tuesday afternoon around 4 pm.  You saw a lot of rain, maybe a bit of hail at that time, and some strong winds.  But, for those in the southern half of the county, it was a much different situation.  The storm brought major damage thru a path running thru the southern half of Fayette County, resulting in major damage to multiple homes, sheds, and power lines.  The damage to homes throughout the area and debris scattered in fields and up in power lines around the region, stretching throughout the southern half of Fayette County.  One bit of good news is no injuries have been reported.
At the time of the storm, Fayette County was under a Tornado Watch, but no storm warning of any kind was issued.  This is the second time in less than a year than an area of Fayette County has been hit with major storm damage, but there was no weather warning at the time.  The other time was on the morning of Father's Day 2017, when Vandalia and other areas in the county were hit with major damage from what the National Weather Service says was not a tornado, but 60 MPH winds.  As for Tuesday's storm, no indication has been made at this time by the NWS, but there are said to be spotters who saw a tornado in Fayette County.  As of this time, that has not yet been confirmed.
Photo Submitted by Crystal Whitehead—Photo taken in rural St. Peter area.