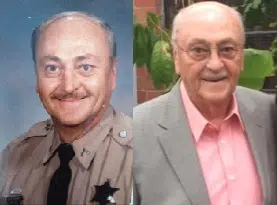 Thomas J Brown, 81, of Vandalia passed away at 8:15 AM, Sunday, February 18, 2018 at his home.
Funeral Services will be held at 7:00pm, Friday, February 23, 2018 at Unity Baptist Church, Hwy 185 Location, Vandalia with Rev. Robert Weaver officiating. Visitation will be held from 4:00-7:00pm, Friday, February 23, 2018 at Unity Baptist Church, Hwy 185 Location, Vandalia. At the request of Tom and his family his body will be cremated after services. Memorials may be made to the Vandalia Sports Boosters or the Fayette County Cancer Fund. Hohlt & File Funeral Home of Vandalia is in charge of arrangements. Online condolences are available at www.hohltandfilefh.com
Thomas Joseph Brown was born in Old DuQuoin, IL on June 13, 1936, the son of Thomas E. and Agnes L. (Flauaus) Brown. On December 30, 1956 he married Jane A. Cheek; she preceded in death on June 03, 2015. After their marriage Tom and Jane moved to Chicago, then to the suburb of Lombard, IL where they lived for approximately 13 years. Due to Tom's Change in profession, in 1971, the family made the move to Vandalia. Other than raising four children with his wife, Tom was a Master Sargent for the Illinois State Police for 27+ years, retiring in 1995. While employeed by the State of Illinois, Tom was also a D.A.R.E coordinator, even traveling to the Philippines in order to inform others and expand the organization. After retirement, Tom became a bus driver for Vandalia Community Schools for nearly 20 years.
Tom was an avid golfer and enjoyed being a clock keeper for Vandalia Community Schools' sporting events for 37 years. He was a member of the Mason's Temperance Lodge #16, AINAD Shriners, Vandalia Country Club, and the Fraternal Order of Police – Illinois Troopers Lodge #41.
He is survived by his daughters Krystal and husband Greg Hohlt of Vandalia, Stacy and husband Tim McMillan of Vandalia, and Micki and husband Scott Durbin of Vandalia; son Tom Brown and wife Paige of Waterloo, IL; sister, Leona Bullock of DuQuoin; grandchildren Kristoffer Taylor and wife Michelle, Brett Taylor and wife Mindy, Brianne and husband Jason Garner, Erin and husband Steve Sash, Caitlin and husband Adam Reinhold, Marion Brown and wife Brandy, Terre Brown, Devin Durbin, Mike Durbin, Chris Durbin and wife Amanda, Madison Brown, Nathan Brown, and Luke Hohlt and wife Megan; great grandchildren Zoe, Ally, Natalie, Kynley, Sylas, Mabry, Ava, Kinsley, Caroline, Dakira, Sloan, Zach, Justin, Zane, Bentley, and Briar; nephew, Mark Bullock and wife Jean of DuQuoin; and niece, Debbie and husband Dwayne Burns of DuQuoin.
He was preceded in death by his parents and wife.