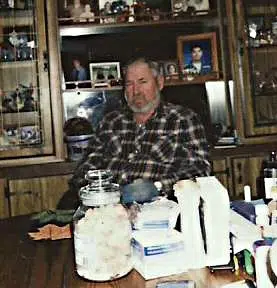 Charles Robert Hull Sr., 61, of Shobonier, IL passed away at 4:45 AM, Monday, January 29, 2018 at his home.
Graveside service will be held at 11 am on Saturday, February 10th at Wilberton Cemetery in rural Shobonier. Memorials may be made to the Family of Charles Hull Sr. Online condolences can be expressed at www.hohltandfilefh.com
Charles Robert Hull Sr. was born on August 1, 1956 in Centralia, IL, the son of James D. and Fern L. (Mays) Hull. He was employed by Richards Logging in Shobonier. Charlie enjoyed hunting, fishing, and playing guitar at the seminary school house.
He is survived by his companion of 34 years, Lora Richards of Shobonier; sons, Charles Hull Jr. of Shobonier and Justin Hull and wife Desalene of Louisville; sisters, Carol Atchison of Centralia, Linda Finckbone and husband Lee of Wamac, Virginia Ord and husband Steve of Walnut Hill, Judy Glammeyer of Centralia, Betty Steinkamp and husband Roy of Junction City, Marsha Hodge and husband Joel of Odin; brother, Donnie Hull and wife June of Centralia; Half-sister, Janet Declue of Centralia; and seven grandchildren.
He was preceded in death by his parents and brothers, James D. Hull Jr and Garry Hull.