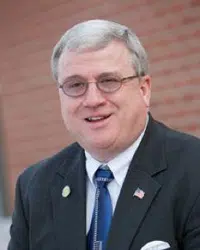 Vandalia Mayor Rick Gottman addressed several topics when he spoke at the annual Banquet for the Greater Fayette County Chamber of Commerce.  One topic Mayor Gottman touched on was shopping local, and encouraged everyone to do their best to keep dollars in the community.
Another issue Gottman addressed was the work to bring jobs to the area.  Mayor Gottman talked about working with other communities in Fayette County to try and bring jobs to the area.  But, Gottman says we also need some help with reforms in Springfield.
Mayor Gottman also talked about a couple of the candidates in the upcoming Republican primaries for State Senate and State Representative.  And, we'll hear from him on that coming up tomorrow during NewsCenter.