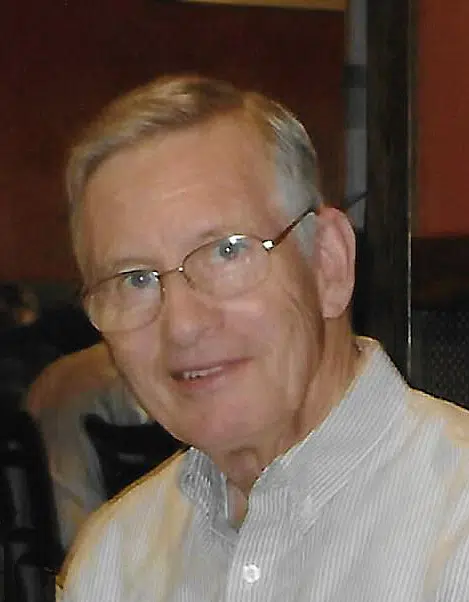 David W. Hinton, 81, of Ramsey, Illinois, passed away Thursday, January 4, 2018, at his home in Ramsey, IL.
Services will be held at 11:00 AM, Monday, January 8, 2018, at Ramsey Christian Church, Ramsey, with Pastors Larry Daniel and Robert Francisco, officiating. Burial will follow at Ramsey Cemetery, Ramsey, IL, with Military Rites. Visitation will be held from 2:00 PM to 4:00 PM, Sunday, January 7, 2018, and 1 hr.. prior to the service on Monday, all at the church. Memorials: Ramsey Lions Club, Ramsey, IL. Miller Funeral Home, Ramsey, IL, is in charge of arrangements. Online memories and condolences may be shared with the family at www. millerfh.net.
Born July 18, 1936, in Vandalia, IL, the son of Orville Wayne & Nelle Fern (Leigh) Hinton. Married Cynthia Evelina LeFever on July 30, 1991, on Lake Shelbyville, Shelbyville, IL. They retired and moved to Ramsey in 1996.
David graduated from Ramsey High School in 1954 and graduated from Eastern IL Univ. in 1958 with a BS in Education, majoring in political science and history. He attended West Texas State Univ. at Canyon, Texas 1962-63 and received an MA in public administration and continued teaching at West Texas as an instructor of government until 1966.
He married Betty Jean Graham in 1963 and they had two children, Marynell and Allen Wayne. In 1963 David accepted a position as budget analyst at Hq. USAF, The Pentagon. He worked for the Comptroller of the Air Force until a reorganization and then worked for the Assistant Secretary of the Air Force for Financial Management.
David was a US Air Force Veteran 1958-1962, stationed at Chanute AFB in Rantoul, IL and Kindley AFB in Bermuda; Member of Ramsey Christian Church, Anderson-Scroggins Post 460 Am. Legion, Ramsey Village Board Member, 3 years, Ramsey Mayor, 1 year, and Ramsey Lions Club, all of Ramsey, IL.
Survived by: Wife – Cynthia Hinton, Ramsey, IL; Son – Allen Hinton, Miami, FL; Daughter – Marynell Hinton & Tobin Atkinson, Salt Lake City, UT; Step-Daughters – Brenda Bender & Larry, Marshall, IL, Laura George & Tony, Indianapolis, IN, and Cheryl Livvix, Orlando, FL; 6 Step Grandchildren; and 5 Step Gt. Grandchildren.
Preceded in death by: Parents.