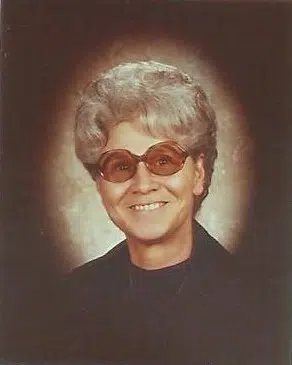 Elizabeth "Betty" Mae Yarbrough, 95, of Vandalia, IL went to be with her Lord on Tuesday, December 19, 2017 at her daughters' residence in Shobonier, where she resided.
Services celebrating her life will be held at 10:00 AM, Friday, December 22, 2017 at the First Pentecostal Church, Vandalia with Pastor Paul Cagle officiating. Interment will follow in Fairlawn Cemetery, Vandalia. Visitation for friends and family will be held one hour prior to services from 9:00 AM- 10:00 AM at the church. Memorials may be made to the First Pentecostal Church. Online condolences can be expressed at www.hohltandfilefh.com
Betty was born May 13, 1922 in Patoka, IL the daughter of Robert and Amanda (Parks) Binnion. She was formerly married to Darold Yarbrough. She retired from Crane Packing Company in Vandalia after 14 years as an inspector. Betty's family and her faith were very important to her. She was reared in the Pentecostal faith and was an active member of the First Pentecostal Church. Betty enjoyed reading, attending church functions, and gospel singing. She especially loved spending time with her family.
She is survived by her two sons, Terry "Rube" Yarbrough and wife Teena, and Rick Yarbrough and wife Brenda , both of Vandalia; three daughters, Deanna Cole and husband Danny of Knoxville, TN, Sherry Davis and husband Charles of Effingham, and Sabrina Tackett and husband Richard of Shobonier; grandchildren, Michelle Holman, Clark Davis, Tiffany Heineman, Dannon Cole, Dathan Cole, Dustin Cole, Bruce Yarbrough, and Clint Donaldson; great-grandchildren, Alexa Holman, Jordan Holman, Caileigh Cole, Daylen Cole, Dax Cole, Tinley Cole, Cole Yarbrough, Kennedy Yarbrough, Brooke Donaldson, and Clay Donaldson; and a sister Jean Hall of Mesquite, TX.
She was preceded in death by her parents; sister, Laura; and brothers, Charles, Wayne, Robert, Selby, John, and Arch.