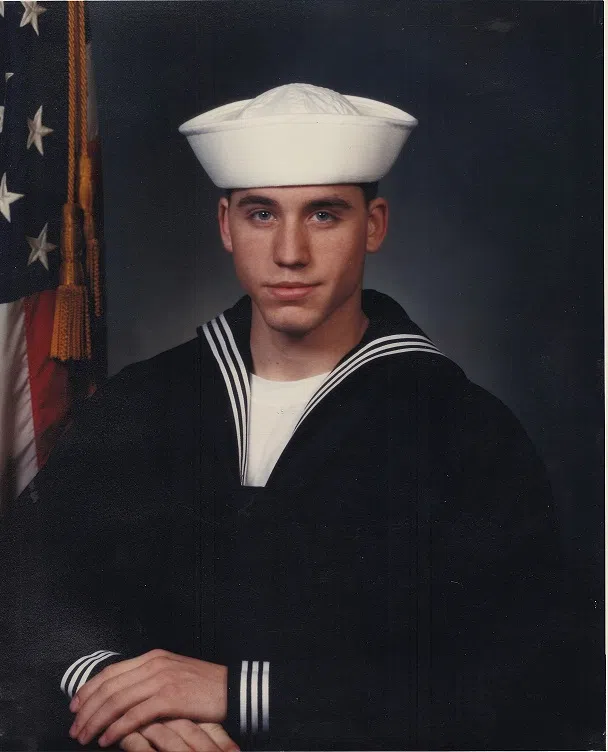 Will Parks, 40, formerly of Illinois, passed away on Thursday, August 10, 2017 at his residence in Inez, Tx.

Graveside service will be at 11:00 a.m. Saturday, November 18, 2017 at Montrose Cemetery in Montrose, Illinois with Military Rites observed. Jim Giffin will be officiating. Memorials may go to Department of Veteran's Affairs for PTSD treatment and research or the donor's choice. Online condolences may be expressed at www.pagelfuneralhome.com
Will was born May 20, 1977 in Effingham, IL to Jeffrey Ray and Connie Jo (Hutson) Parks.
William served in the United States Navy as an AT2 Aviation Electronics Technician and Aircraft Radar Altimeter Equipment IMA Tech for 10 years, and Airborne Corps Warrior Leader CRS. He earned numerous medals including Navy Good Conduct Medal-3xs, National Defense Medal, Armed Forces Expeditionary Medal, and Aviation Warfare specialist, among other ribbons and medals.
William held the position of Estimator at PMI, Palacios, TX, and was described by his coworkers as hard working and extremely dedicated; he was loved and respected by all. He was often described as a social butterfly that would always go out of his way to help others when needed. He will be remembered as Houdini by many because of the way he would suddenly pop into a person's life, help them; then, just as suddenly, disappear until the next time.
Survivors include his parents, Jeff of Greenup and Connie of Montrose, former spouse Alexandra (Cantu) Parks and their twin son and daughter, Frasier and Faye Parks of Laredo, Texas, a son Roman Parks with his mama Angelica Gonzalez of Corpus Christi, Texas, and Wills maternal grandmother; Loleta Hutson of Cisne, Illinois; Also surviving are his sisters Chassidi (Mark) English if Elizabethtown, Illinois, Lacey Parks of Effingham Illinois, Jennifer Cline of Casey, Illinois. Steffani Parks and Carlee Parks, both of Greenup, Illinois. Will is also survived by many nieces, nephews, and other loving family members and friends, including his special friend Palmira Leal of Brownsville, Texas.
Will was preceded in death by his brother, Bryan J. Parks of Greenup, his paternal grandparents, Donald R. Parks and T. Faye (Larimer) Parks and his maternal grandfather, Justice J. Hutson, all of Effingham County, Illinois.