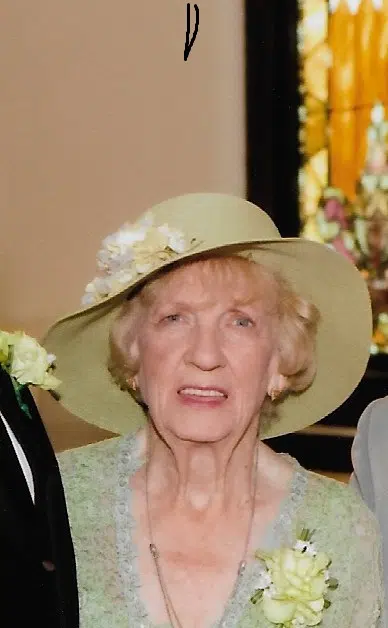 Marjorie "Margie" Ellen McIntyre-Thompson, 89, of Greenville, Illinois, formerly of Brownstown & Ramsey IL, and Wilcox AZ, passed away Saturday, November 11, 2017, at Helia Health Care in Greenville, IL.
Services will be held at 12:00 PM, Saturday, November 18, 2017, at Holy Cross Lutheran Church, Vandalia, with Pastor Jerry Bagwell officiating. Burial will follow at Griffith Cemetery, RFD Brownstown, IL. Visitation will be held from 10:00 AM to 12:00 PM, Saturday, November 18, 2017, before the service at the Church.  Memorials: To the family & or Donor's Choice, . Miller Funeral Home, Vandalia, IL, is in charge of arrangements. Online memories and condolences may be shared with the family at www. millerfh.net.
She was born, October 25, 1928, in Marion County, IL, the daughter of Marvin Henry & Martha E. (McDonald) Winegarner.  Married Robert J.  McIntrye in 1949, he passed away February 21,1992. Later married Walter Thompson.  She was a retired Accountant, co-Owner of Circle M Accounting.  Member of Northside Christian Church,Vandalia, IL, Illinois Chapter & National Society of Public Accounting, Several Tennessee & Racking Horse Clubs throughout the area and Culbertson Dance Club.
She is survived by: Husband – Walter Thompson, Vandalia, IL;
Daughters – Betty Roe & Roger, Brownstown, IL, Jessie Maske & Hubert "Bert", Ramsey, IL and   Bobbie Lippse & Sam, Tucson, AZ; Sisters – Grace Elwell, Wilmington, IL and  Leona Siedel, Los Alamos, NM;
Grandchildren – Jason & Mindy Roe, Tyler & Ashley Roe, Katelyn & Clark Satterlee, Braden Roe & fiancée Paula Greer & Jarod Maske;
Great Grandchildren – Gabe, Oliva, Sawyer, Abram, Asaiah, Andrew, Carly, & Ava
Special Daughter & Son- Millie & Bob Schroeder , Shobonier, IL; Special Step-Daughter – Mickey Gebhart, Vandalia, IL.; Life Long Friend, Betty Donaldson, Springfield, IL
Preceded in death by: Her Parents, First Husband,  Brother – Ralph Winegarner and Sister – Vera Stumborg.