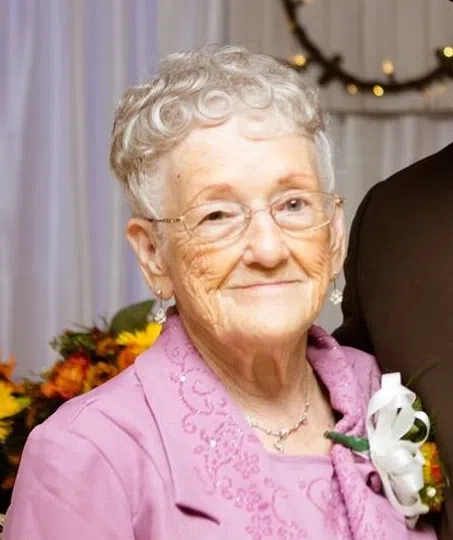 Saxon Zay Warner, age 91, passed away at 4:57 p.m. Tuesday, November 7, 2017 at Lutheran Care Center in Altamont, Illinois.
Funeral service will be at 11:00 a.m. Monday, November 13, 2017 at Mason Christian Church in Mason, Illinois. There will be a one-hour viewing prior to the service. Mark White will be officiating. Burial will be at Leith Cemetery in Union Township, Effingham County, Illinois. Visitation will be from 4 to 8 p.m. on Sunday, November 12, 2017 at Mason Christian Church in Mason, Illinois. Memorials may go to Lutheran Care Center in Altamont, Illinois, Mason Christian Church Missions or donor's choice. Online condolences may be expressed at www.pagelfuneralhome.com
Saxon was born on July 14, 1926, in Effingham County, the daughter of Isaac C. and Theta (Michaels) Hardin. She married Clark Ervin Warner on July 19, 1941 in St. Charles, Missouri. She was a member of the Mason Christian Church and a charter member of the Mason Civic Club. She enjoyed singing, crocheting, reading the Bible and other books, attending family get-togethers and spending time with her loved ones.
She is survived by her son, Gale Warner (wife Glenda) of Altamont, Illinois; daughter, Melody Culver (husband Bill) of Mason, Illinois; three sisters, Philena Steele of Effingham, Illinois, Coral Ruffner of Decatur, Illinois and Sharon Keller of Centralia, Illinois; two daughters-in-law, Janet Warner of Effingham, Illinois and Cheryl Warner of Florida; 19 grandchildren; 32 great-grandchildren and 9 great great-grandchildren.
She was preceded in death by her father, Isaac Hardin; mother and step-father, Melvin and Theta Buchholz; husband, Clark E. Warner; three sons, Chuck Warner, Clark Warner Jr. and Tom Warner; daughter, Linda Moore; sister, Zella Pruden; granddaughter, Kristy Weber.