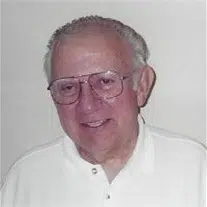 Robert L. Thompson, 82, of Pekin, Illinois, formerly of Rural Ramsey, Illinois, passed away Thursday, October 5, 2017, at Pekin, IL.
Graveside services with military rites will be held at 11:00 AM, Monday, October 16, 2017, at Glendale Cemetery, Fillmore, with Pastor Terry Walters, officiating. Friends and family may gather at the cemetery at 10:30 A.M. Memorials: Shriners Hospitals For Children. Miller Funeral Home, Fillmore, IL, is in charge of arrangements. Online memories and condolences may be shared with the family at www. millerfh.net.
He was born January 16, 1935, in South Hurricane Twp…, IL, the son of Oscar & Josie (Leigh) Thompson. Married Beverly A. Whitten Thompson on April 14, 1962, in rural Vandalia, IL.
Robert graduated from Ramsey High School and attended college for 2 years with computers, working on the Peoria and Pekin Railroad a total of 44 years which included 2 years served in the United States Army (1957-1959). He started as a Telegraph Operator, Dispatcher, Time Keeper, Demurrage Clerk, Operations Manager of the Computer Dept., and finally 4th in Command as Agent, Car Accountant, before retiring in 1996. Robert and two men that worked under him were responsible from taking the railroad staff of 73, down to 13 people in Operations.
Robert served as a Deacon in Creve Coeur Southern Baptist Church, Creve Coeur, IL for a number of years before moving out of the area. He was also a member of Fillmore Masonic Lodge 670 A.F.&A.M, receiving his 50 year pin in August of 2006. Robert was a 32° member of A.A.S.R. Northern Masonic Jurisdiction USA. He became a member of Valley of Peoria Shrine in 1976. He joined the clown division where he played, "Choo Choo" for several years.
He is survived by: Wife – Beverly Thompson, Pekin, IL; Daughter – Deborah Thompson, Pekin, IL; Brother-in-law – Robert Whitten, Alton, IL; Several Nephews & Nieces; and Several Cousins.
Preceded in death by: Parents.