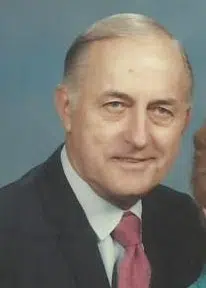 Herman L. "Bud" Wiss, 91, of Vandalia, IL passed away at 3:35 AM, Monday, October 9, 2017 at Fayette County Hospital.
Services for Mr. Wiss will be held at 10:00 AM, Thursday, October 12, 2017 at Holy Cross Lutheran Church in Vandalia, IL with Pastor Jerry Bagwell officiating. Burial will follow at Holy Cross Lutheran Cemetery in Vera, IL with military rites accorded by Crawford-Hale American Legion Post #95. Visitation will be held from 6:00- 8:00 PM, Wednesday, October 11, 2017 at Holy Cross Lutheran Church, Vandalia and 1 hour prior to services at the church Thursday. Memorials may be made to Holy Cross Radio Ministry, St. Jude's Children's Hospital, or the Donor's Choice. Online condolences can be made at www.hohltandfilefh.com
Herman was born December 05, 1925 in Vandalia, IL, the son of John and Minnie (Schukar) Wiss. Bud served in the US Navy. He married Edna Louise Mindrup on June 16, 1982. Bud was the owner/ operator of Wareco Gas Station formerly Liberty Gas in Vandalia. He enjoyed bowling, gardening, fishing and hunting. Bud was also a member of Holy Cross Lutheran Church.
He is survived by wife Edna Wiss of Vandalia; daughters Nancy and husband Ken Gebke of Vandalia, IL, and Becky and husband Paul Justad of Graham, NC; step-sons Randall Siebert and wife Marie of Vandalia, IL and Roger Siebert and wife Denise of McKinney, TX; step-daughter Lori Hanley and husband Mike of Edwardsville, IL; sister Ruth Sperlin of Vandalia, IL; grandchildren Tammy and husband Brian Westendorf, Ted Thompson and wife Angie, AJ Justad and wife Laura, Anton Justad and wife Erin, Micah Justad and wife Kristen, Andrew Justad and wife Joshlynn, Jahde Justad, Keith Gebke and wife Nina, Todd Gebke and wife Gennie, Jennifer and husband Mike Wuebbles, Matthew Warden and friend Renee, Brady Siebert, Derek Siebert and friend Jessica, Chad Austin and wife Mandi, Jennifer Lake, Megan and husband Ryan Indermark, and Mike Hanley and wife Melanie; great grandchildren Brandi and Shawn Cripe, Brittany and Tyler Ondes, Tyler and wife Megan Westendorf, Dalton Goldsboro and wife Raelynn, Drake Thompson and fiancé Ashley Metzger, Gracie Morrison and friend Tim Ritchey, Lexie Morrison, Dalton Wehrle and wife Shelby, Drew Thompson, Brandon Gebke and wife Sarah, Caleb Gebke, Megan Gebke, Carly Gebke, Jonathan Justad, Brayden Wuebbles, Connor Wuebbles, Chayse Siebert, Benson Siebert, Cade Siebert, Quenten Austin, Garrett Austin, Bella Austin, Sydney Austin, Triston Litaker and wife Taryn, Tiffanae Litaker, Trent Indermark, Anders Indermark, Taryn Indermark, and Desmond Hanley;and great-great grandchildren Macy Cripe, Maddi Cripe, Thacker Cripe, Cayden Ondes, Colton Ondes, Harper Goldsboro, Hunter Westendorf, Amelia Westendorf, Decker Ritchey, Weston Wehrle, Cooper Wehrle, and Kaelyn Litaker.
He was preceded in death by his parents, grandson Todd Thompson, and granddaughter Laura Wiss.