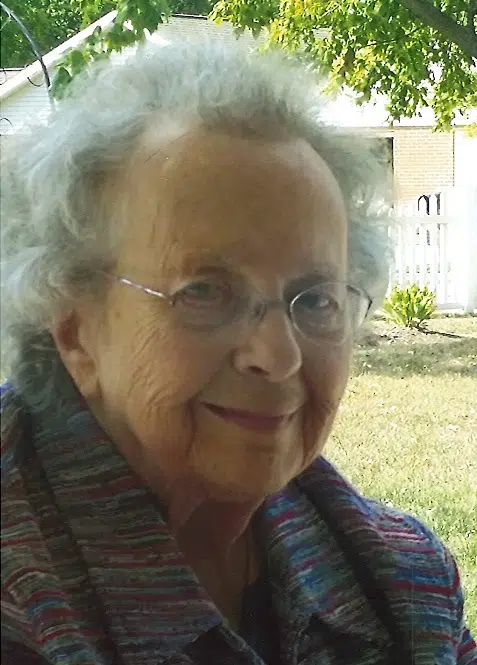 Jean P. Brown, age 90, of St. Elmo, Illinois passed away at 7:00 a. m. Sunday, October 8, 2017 at the Lutheran Care Center in Altamont, Illinois.
Funeral service will be at 9:30 a.m. Saturday, October 14, 2017 at Fairview Methodist Church with a half-hour viewing prior to service. John Heicher will be officiating. Visitation will be from 5 p. m. to 8 p.m. Friday, October 13, 2017 at C & A Pagel Funeral Home in St. Elmo, Illinois. Burial will be at Fairview Cemetery in rural St. Elmo, Illinois. Memorials may go to Fairview Methodist church, Fairview Methodist Cemetery or the donor's choice. Online condolences may be expressed at www.pagelfuneralhome.com
Jean was born on September 19, 1927 in Mt. Vernon, Illinois, the daughter of Eldon H. and Ruby D. (Seabaugh) Bollinger. She married Olof E. Brown on May 15, 1948 in Indiana.
She is survived by her two sons, Robert H. Brown (wife Betty) of St. Elmo, Illinois and Rick O. Brown (wife Connie) of Farina, Illinois; four daughters, Barbara A. Durbin of St. Elmo, Illinois, Nancy G. Durbin (husband Charlie) of St. Elmo, Illinois, Brenda K. Stielow (husband Steven) of Atwood, Illinois, Melody L. Jenkins (husband Jim) of Lakewood, Illinois; one brother, Roy Bollinger (wife Francis) of Simi, California; two sisters, Wanda Edwards of Phoenix, Arizona and Edith Smith (husband Ivan) of Phoenix, Arizona; 17 grandchildren, Stacy Brown, Hope Jourdan, Robin Durbin-Flack, Tammy Lotz, Charlie Brewbaker, Bobby Brown, Tina Brown, Charity Bellville, Trevis Brown, Angie Robson, Chelsy Boatwright, Clifton Durbin, Heather Bollhorst, Casey Julius, Elizabeth Mason, Chance Carter, Joseph Jenkins, 25 great-grandchildren and 4 great great-grandchildren.
She was preceded in death by her parents, Eldon and Ruby Bollinger; husband, Olof E. Brown; son, Gary Brown; brother, Edward Bollinger; sister, Peggy Brownrigg; granddaughter, Chasity Brown; brothers-in-law, Oliver Edwards and Marvin Brownrigg.