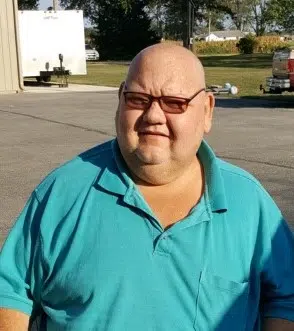 Marvin Lee Torbeck, 54, of Odin, died peacefully in his home, Wednesday, October 4, 2017.
Services will be held at 11:00 AM, Friday, October 6, 2017 at Calvary Free Will Baptist Church in Salem with Pastor Harlen Johnson officiating. Burial will immediately follow services at Farmers Cemetery in Shobonier. Visitation will be held from 5:00-8:00 PM, Thursday, October 5, 2017 at Calvary Free Will Baptist Church in Salem and one hour prior to services on Friday at the church. Per Marvin's wishes, in lieu of flowers, memorials are to be made to his family. All who knew and loved Marvin would know that he would want you to dress casual. Online condolences may be made at www.hohltandfilefh.com
Born September 26, 1963 in Vandalia, graduated Odin High School in 1981 and married Deborah Wilkins April 18, 1992 in Salem. He was a former employee of National Magazine Mailers, Wheaton Plastics/Alcan Packaging, O'Reilly Auto Parts and Napa Auto Parts in Salem.
Marvin was a Mopar enthusiast who loved drag racing, attending car shows, and hanging out and reminiscing with friends.
Survived by wife Debbie (Wilkins) Torbeck and son Zach Torbeck, parents Marvin and Jean (Pryor) Torbeck of Odin, brothers Mike and wife Jen Torbeck of Sandoval and Terry Torbeck of Odin, brothers and sisters-in-law Barb and husband Lew Lorenzini of Centralia, Jacki Schuler of Salem, Ricky Kay Dunaway of Walnut Hill, Richard "Keebler" and wife Marcia Wilkins of Salem, Danny "Mtn. Dew" Wilkins of Centralia, Ronny "Rev" Wilkins of Salem, Mike and wife Sandy Wilkins of Salem, Roger Wilkins and friend Karen Crain of Salem, Marsha and husband Jim Pritchard of Altamont, Mary "Tina" Wilkins of Salem, Kevin Wilkins of Boyd, Jay and wife Linda Wilkins of Salem, Jeanette and husband Kerry Hodge of Odin, Sue and Husband Steve Rankin of Decatur, numerous nieces and nephews, aunts and uncles, cousins and a host of friends.
Preceded in death by grandparents Ben and Bertha Torbeck and Kenneth and Lena Pryor, in-laws Richard and Betty Wilkins, brothers Robert Flannigan and Donnie Flannigan, brothers-in-law George Schuler and Doug Dunaway, nephew Ben Wilkins, and a great-niece Lanie Hester-Hodge.