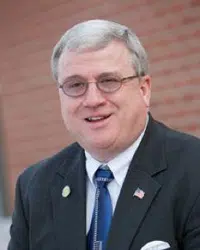 Vandalia Mayor Rick Gottman took time at the beginning of a special Vandalia Lake committee meeting on Saturday morning to present pros and cons of annexing the lake lots currently included in the 99-year lake lease. The first pro pointed out by Mayor Gottman was that of lower insurance rates due to the added fire protection.
Added police protection and road maintenance were two more pros of annexation.
Other pros include more money for lake improvements and lake residents being able to work for the city.
Gottman then presented the one con which would be property taxes increasing due to the addition of taxes for the City of Vandalia, the Vandalia Park District and Mosquito Abatement.
After the presentation from Mayor Gottman, residents were able to ask questions and voice their thoughts and/or concerns with the issues of the 99-year lease and annexation into the city. And we will have more on that tomorrow on Newscenter.