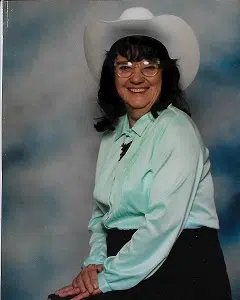 Linda Lou Gillespie, age 80, of Flora, Illinois passed away Saturday, June 17, 2017 at 2:46 p.m. at Carle Hospital, in Urbana, Illinois.
Funeral service will be 11:00 a.m. Wednesday, June 21, 2017, at the Prairie View Church, 2266 County Road 1700 North, St. Elmo, Illinois, with a one-hour viewing prior to the service. Mike Elliot will be officiating. Burial will be in Loy Cemetery, Heartville, Illinois. Visitation will be held at C & A Pagel Funeral Home, in St. Elmo, Illinois from 6 p.m. to 8 p.m. Tuesday, June 20, 2017. Memorials can be made to any children's cancer charity and will be accepted at the funeral home. Online condolences may be expressed at
Linda was born at home in Effingham County Illinois on November 9, 1936 the daughter of James E. and Sophia M. (Keller) Gillespie. Linda was a homemaker, staying at home to raise her children. She was an avid lover of nature and made herbal soaps and lotions
She is survived by five sons, Charles Duff (LaDora) of Louisville, Illinois, Phillip Sapp (Kathie) of Effingham, Illinois, Danny Sapp (Juanita) of Texas, Darrell Sapp of Missouri, James Duff of Flora, Illinois; two daughters, Donna Woodyard of Paris, Illinois, Marilyn Pyle (Dale) of St. James, Illinois; brother James (Kathlean) Gillespie of Collinsville, Illinois; sister, Myrna Knifley of Watson, Illinois; numerous grandchildren and great grandchildren.
Linda was proceeded in death by her parents; four sons, Bill Sapp, Paul Sapp, Michael Sapp, John Sapp; Daughter Angie Duff; three brothers, Joe Gillespie, Meryl Gillespie, Leroy Gillespie; three sisters, Lawanda Anbler, Laura Jewel, and Innis Vincent; one son-in-law, Bill Woodyard.