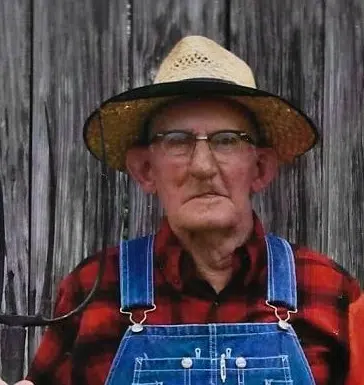 Millard Mills, age 96, of St. Elmo, Illinois passed away at 5:55 a.m. Friday, April 28, 2017 at his home surrounded by his family.
Funeral services celebrating the life of Millard will be at 11:00 a. m. Tuesday, May 2, 2017 at the Trinity Chapel United Methodist Church (Post Oak) in rural St. Elmo, Illinois with one hour viewing prior to service. John Heicher will be officiating. Burial will be at the Post Oak Cemetery in rural St. Elmo with Military Rites. Visitation will be from 5 to 8 p. m. Monday, May 1, 2017 at C & A Pagel Funeral Home in St. Elmo, Illinois. Memorials may go to HSHS St. Anthony's Hospice, the Loudon City Cemetery Fund or the Trinity Chapel Church. Online condolences may be expressed at pagelfuneralhome.com
Millard was born on March 11, 1921in Fayette County, the son of Orville and Mabel (Hicks) Mills. Millard married Fairy Alice McIntyre on June 9, 1946. He was a Veteran and served his country as an Army Medic during WWII. He was a member of the Trinity Chapel UMC and served several offices in the church. While a life time farmer, he also worked as a school bus driver for the St. Elmo School District and was a long-time laborer at the St. Elmo Grain Elevator. He was also employed at Richardson's Bros. Green House. Millard served three years on the St. Elmo District School Broad.
He is survived by his wife of 70 years, Fairy Alice Mills of St. Elmo, Illinois; two sons, Glen Mills (wife Ann) of Brownstown, IL. and Mark Mills of St. Elmo, IL.; three daughters, Marie Hopper (husband Jim) of Farina, IL., Norma Dunn of Fort Scott, KS. and Ruth Ryder (husband Lewis of Neoga, IL.; one sister, Rosemary Owen of St. Elmo, IL.; 13 grandchildren and 15 great-grandchildren.
He was preceded in death by his parents, Orville and Mabel Mills; one sister, Orvilla Sarver; one brother, Elvin "Shorty" Mills and one son-in-law, Joel Dunn.