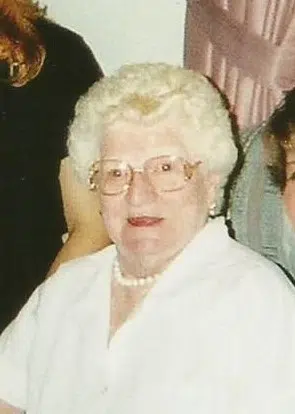 Helen Beth Culbertson, 91, of Vandalia passed away on Wednesday, April 19, 2017, peacefully in her sleep while at home.
Services for Mrs. Culbertson will be held at 2:00pm, Sunday April 23, 2017 at Unity Baptist Church, Vandalia (Downtown Location) with Rev. Joe Lawson officiating. Visitation will be held from 4:00-7:00pm, Saturday, April 22, 2017 at Unity Baptist Church, Vandalia (Downtown Location) and also 1 hour prior to the funeral service Sunday. Burial will follow in Fairlawn Cemetery, Vandalia. Memorials may be made to the Vera Baptist Church. Online condolences may be left at www.hohltandfilefh.com
Helen was born February 5, 1926 in Athelstane, WI, the daughter of Cloide and Ima Hardiman Carruthers. She married Lowell W. Culbertson on February 2, 1944 in Ramsey; he preceded her in death on March 16, 2000. Helen and Lowell owned and operated Culbertson Skating Rink and Dance in Vandalia. Helen was also a loving and attentive mother to their eight children. She was a member of Unity Baptist Church formerly First Baptist Church of Vandalia, and also attended Vera Baptist Church regularly.
Mrs. Culbertson is survived by sons Donnie Culbertson of Fillmore, Dan (Sharon) Culbertson of Vandalia, Bob (Susan) Culbertson of Vandalia, and Bill (Kathy) Culbertson of Upatoi, GA; daughters Elaine Culbertson of Vandalia, Susan (Ronald) Etcheson of Vandalia, and Sherry (Chris) Meador of Vandalia; brothers Cloide Carruthers Jr., Richard Carruthers, and Daniel Carruthers all of Ramsey; sisters Donna Depew of Shiloh and Nancy Stanton of Coffeen; brother-in-law Morris Dean Culbertson of Augusta, GA; grandchildren Aaron Culbertson, Adam Culbertson, Nathan Culbertson, Jamie Culbertson, Joey Culbertson, Benjamin Culbertson, Luke Culbertson, Jacob Culbertson, Bryan Culbertson, Andrew Culbertson, Ian Culbertson, Jody Meador, Katie Callahan, Lora Lofland, Christy Golder, Julie N. Lay and Alaina McHone; and 22 great grandchildren.
She was preceded in death by her parents, husband, son Lonnie Culbertson, and siblings Mary Ann Wentler, Cloidia Alice Carruthers, Robert Carruthers, Roselene Enright, Imogene Koepnick, Rebecca Hill, Roy P. Carruthers, and Ray Carruthers.