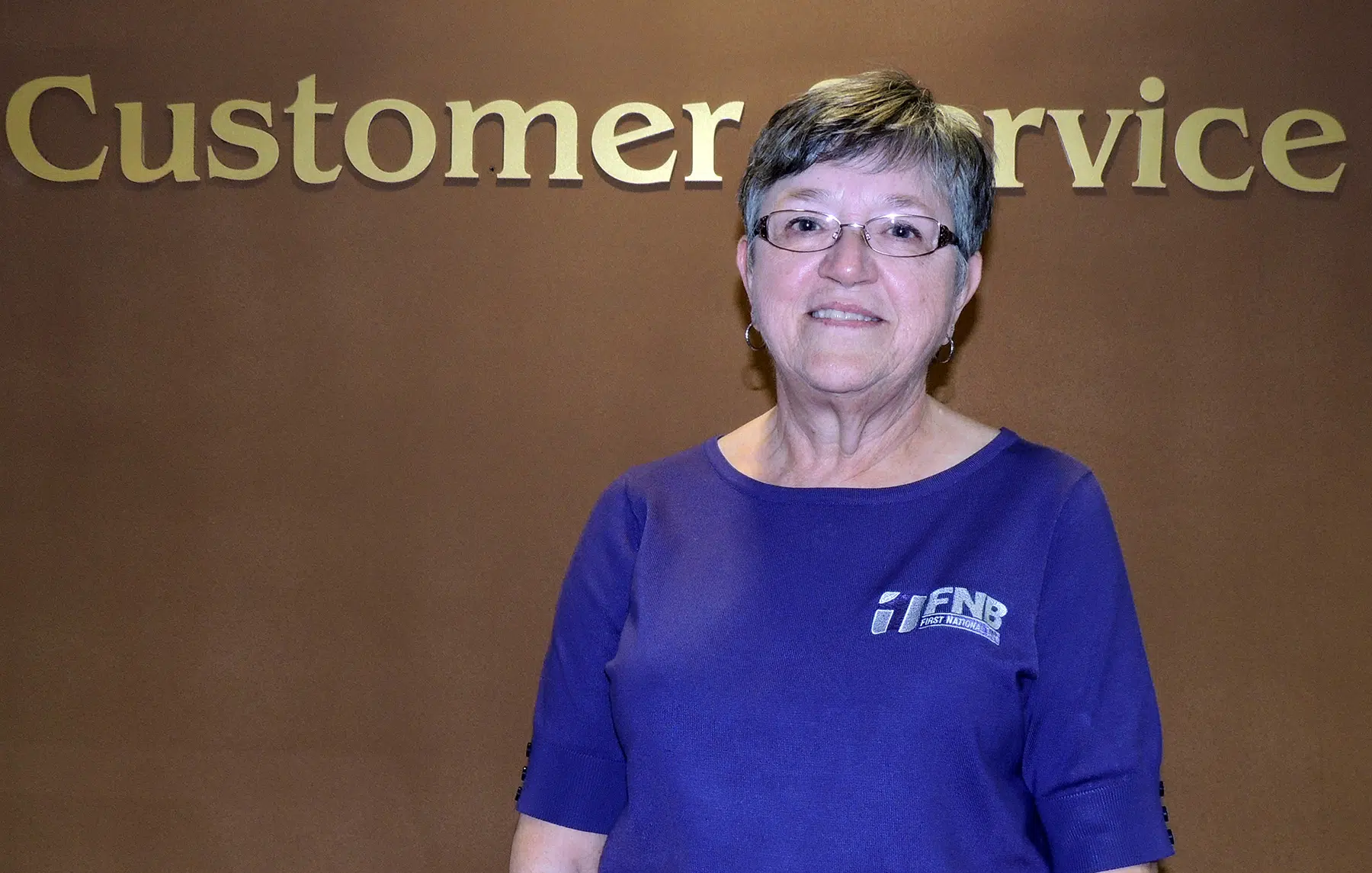 For decades she's been a familiar face to First National Bank customers. Monday, April 17 will be Janet Elam's last day at FNB as she retires from a banking career that began March 1, 1971.
The customer service officer at FNB's main office on Gallatin Street, Elam got her start in bookkeeping before moving to the drive-up teller line, the loan department, and then customer service. She remembers the days when the bank's drive-up tellers were housed in a separate building. Elam recalls, "We were connected to the main bank by an underground tunnel."
Elam has seen many changes in her five decades including the dress code. "There was a time when women couldn't wear slacks." However, most of the changes have involved government imposed rules and regulations that have impacted things like the requirements to open an account.
Her fondest memories are of trips FNB offered to its senior citizen customers. Beginning in the late 1990s, Elam coordinated these one-day trips that focused on culture, entertainment and shopping. She counts a trip to the St. Louis Botanical Gardens as her favorite.
Janet says there are still a few customers she's been working with since she began in 1971. "I've seen generations come through our doors. I'm helping the kids and grandkids of my first customers," she noted. "I've been fortunate to develop many friendships with customers and co-workers. I'll miss that most."
Steve Ainscough, FNB's Chief Financial Officer, praised Elam's years of service, "Janet has been a public face for the Bank for over 40 years. Serving as both a teller and new accounts representative, she has provided the service our customers expect and deserve. Her retirement is well deserved."
"Janet carries with her a lot of bank wisdom and history," said FNB's Marketing Director, John Goldsmith, "I've heavily relied on her memory when planning some of our events."
In her retirement, Elam plans to spend time with her grandkids, work in the garden, and relax. She's also actively involved in the Fayette County Cancer Fund. She and her husband Jim will celebrate their 45th wedding anniversary in June. They are the parents of two sons and the grandparents of six.
The First National Bank, founded in 1865, has three locations in Vandalia and branches in Ramsey, Patoka, Mulberry Grove and Greenville.