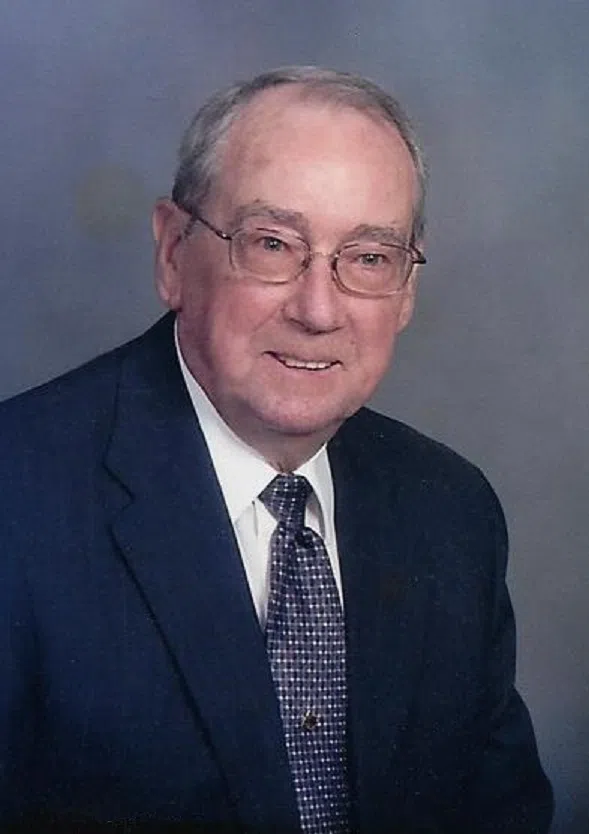 Raymond Arthur Reed, age 87, of Farina, Illinois passed away at 5:45 a.m. Friday, March 24, 2017, at Fayette County Hospital Long Term Care in Vandalia, Illinois.
Funeral service will be at 10:00 a.m. Monday, March 27, 2017, at the St. Peter's Lutheran Church in St. Peter, Illinois with a one hour viewing prior to service. Reverend William Emrick will be officiating. Burial will be at St. Peter's Lutheran Cemetery in St. Peter, Illinois. Visitation will be from 4 to 7 p.m., Sunday, March 26, 2017, at Pagel Funeral Homes in St. Peter, Illinois. Memorials may go to St. Peter's Lutheran Church, American Heart Association, American Cancer Society, or the donor's choice. Online condolences may be expressed at www.pagelfuneralhome.com
Raymond was born on February 18, 1930, in St. Peter, Illinois, the son of William and Martha (Grandt) Reed. He married Mary Rose Torbeck on July 31, 1955. She preceded him in death on July 15, 1997. He married Ruth M. Schaal on April 26, 2003. Raymond was a member of the St. Peter's Lutheran Church, St. Peter American Legion Post #380, and Fayette County Farm Bureau. He held various offices within the church and school. He was a lifelong farmer. He enjoyed playing cards, bowling, fishing, but most of all, spending time with his family and friends.
He is survived by his wife, Ruth Reed of Farina; son, Michael Reed (Diana) of St. Peter; daughters, Beth Reynolds (Paul) of St. Peter, Kay Burton (Henry) of Effingham, and Donna Kroening (Jerry) of Altamont; step-daughters, Lana Feldewerth (Kevin) of St. Louis, Missouri and Nada Meseke (Lee) of St. Peter; sister, Dorothy Harpster (Robert) of St. Peter; sister-in-law, Elizabeth Reed of Washington, Illinois; grandchildren, Joshua Budde (Yashica) of Moorpark California, Eric Budde of Effingham, Kristofer Reynolds (Emily) of St. Peter, Amber Schnarre (Nathan) of Altamont, Scott Reynolds (Shelly), and Lucas Kroening (Jennifer) of Altamont; step grandchildren, Toby Gullion (Kelly) of Salem, Courtney Gladson (Jason) of Nashville, Illinois, Levi Gullion of St. Elmo, and Ryan Gullion (Donna) of St. Elmo; 17 great-grandchildren and 15 step great-grandchildren.
He was preceded in death by his parents, William and Martha Reed; first wife, Mary Rose Reed; brothers, Louis Reed, Howard Reed and Floyd Reed; sister, Ruth Rubin; niece, Sheila Reed, and one step great-grandchild, Chesney Gladson.