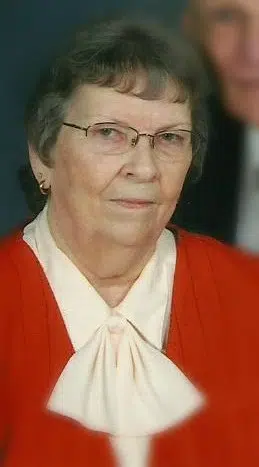 Mary Ann Givens, 84, of Vandalia, IL, passed away at 12:35am on Friday, March 17, 2017 at Fayette County Hospital Long Term Care in Vandalia.
A Funeral Mass will be held at 10:00am Tuesday, March 21, 2017 at Mother of Dolors Catholic Church in Vandalia with Rev. Fr. Barry Harmon officiating. Visitation will be held from 6-8pm on Monday, March 20, 2017 at Hohlt & File Funeral Home, Vandalia. A Prayer Service will be held following Visitation at 8:00pm at the funeral home. Memorials may be made to Fayette County Hospital Long Term Care or Mother of Dolors Catholic Church. Online condolences may be left at www.hohltandfilefh.com
Mary Ann Givens was born September 16, 1932 in Noble, IL, the daughter of Lowell G. and Ethel (Clark) Simmons. She married Thomas Jerry Givens on November 3, 1951 in DuQuoin, IL. Mary was a homemaker until her four children were grown and she then became the activity director at Cherrywood Nursing Home in Vandalia. She loved primitive antiques and quilts, cooking for her family, and her flower gardens. Mary was also a member of Mother of Dolors Catholic Church and a former member of the Catholic Daughters of the Americas.
Mrs. Givens is survived by her husband Thomas Givens of Vandalia; daughter Gayle and husband John Wehrle of Vandalia; sons Tom Givens Jr. and wife Rebecca Clemens-Givens of Mt. Vernon, David Givens and wife Audrey of Vandalia, Gary Givens and wife Stephanie of Robinson; grandchildren John Wehrle, James Wehrle, Justin Wehrle, Julia Moran, Tiffany Beccue, Stephanie Givens, Shawn Givens, Brittany Domenech, Sonnie Givens, and Hunter Givens; 30 great-grandchildren; and one great-grandchild. She was preceded in death by her parents; sisters Elizabeth "Betty" Brown, Wanda Simmons, and Norma Black; brother Lowell "Sonny" Simmons; sister-in-law Pat Cross; and brother-in-law Terry Joe Givens.