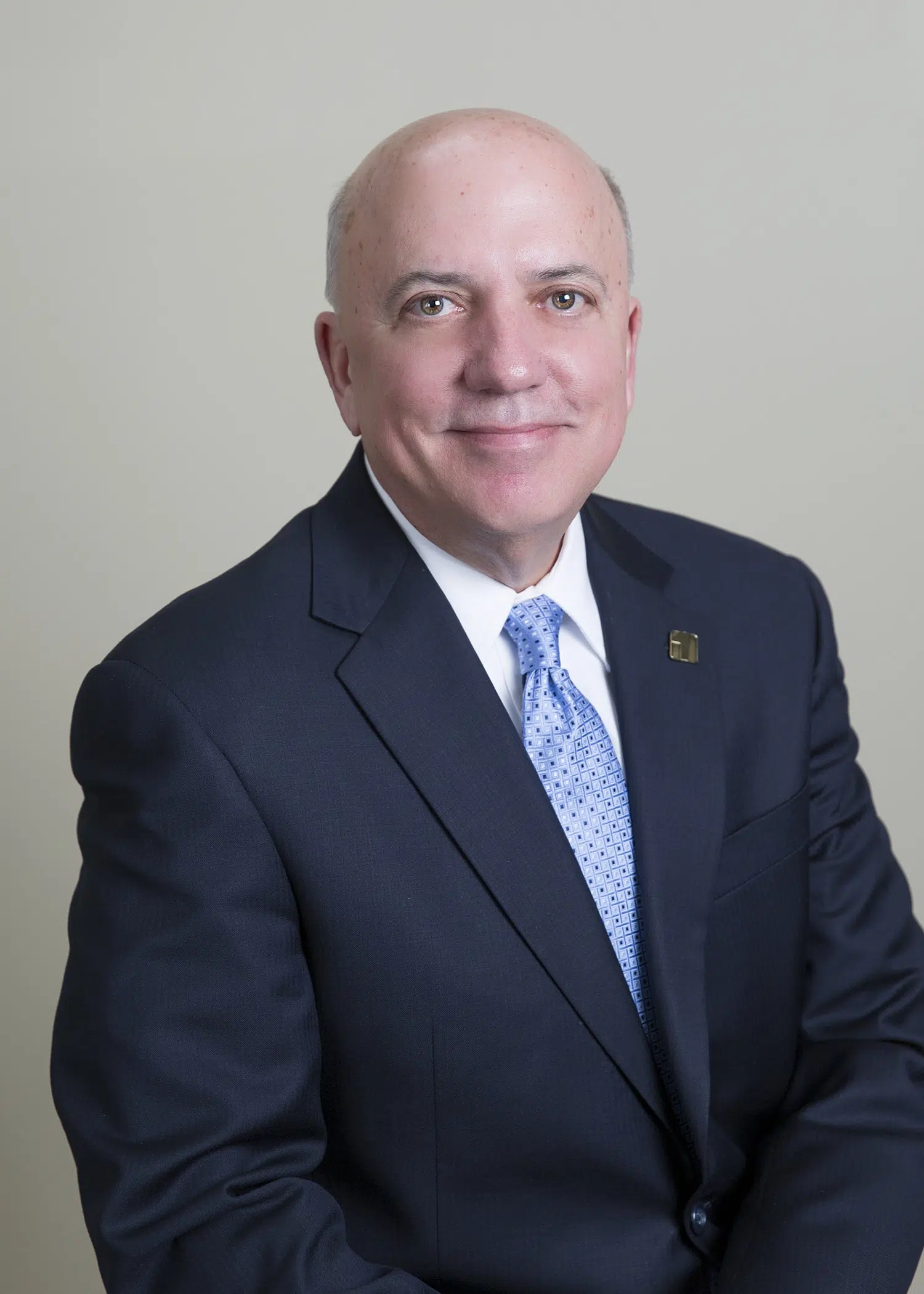 This is the release from First National Bank on the Passing of Mr. Chappel:
The First National Bank family is mourning the loss of former president and chief executive officer William "Ernie" Chappel, who passed away January 24 at his home after a brave battle with cancer. In 1991, Chappel became the ninth president in First National Bank history, a position he held until February 2015 when he semi-retired. Although he stepped down as the bank's president and CEO, Chappel continued as vice chairman working on a few loan accounts and other pet projects including the Bond County Community Foundation, which he launched in 2014. Chappel fully retired in July 2016.
A native of Bond County, Chappel received his degree from the University of Illinois. His banking career began in 1972, which led to his hiring by The First National Bank of Vandalia as its president and CEO in 1991. Under Chappel's leadership, FNB grew from one to seven locations and from $71 million in total assets to over $300 million.
Todd Shulman, President of First Vandalia Corp., said on behalf of the board, "We extend our deepest sympathies to Ernie's family and friends.  It is hard to overstate what Ernie meant to First National Bank.  He has been the driving force behind the bank for twenty-five years, and our institution is immeasurably stronger because of his leadership.  Ernie was the definition of a community banker.  He had a passion for banking, focusing on the needs of our customers, employees and the communities we serve.  We have lost a dear friend and an inspiring mentor."  
Chappel's leadership stretched beyond the walls of The First National Bank. He was a member of the Board of the Federal Reserve Bank from 2010-2015 and the Community Bankers Association of Illinois' Community Service Corporation Board. Perhaps Chappel's greatest impact was on a local level as he spearheaded many projects including the construction of both the Fayette County YMCA and Kaskaskia College's Vandalia Center as well as the expansion of the Bond County Senior Center. He served on the Greenville Regional Hospital Board from 2011-2016.
Over the course of his 25 years at The First National Bank, Chappel forged lifelong friendships. Some of his co-workers shared their remembrances:
Steve Ainscough, Senior Vice President/Chief Financial Officer
"The First National Bank has lost an icon.  Under Ernie's leadership, FNB has grown into one of the strongest and most respected banks in our area.  Ernie brought me to the Bank ten years ago and has served as my mentor since that time.  But putting all the banking business aside, what hurts the most is that I have lost a friend."
Dennis Ehrat, Investment Centers of America
"Ernie was one of the most special people I had the pleasure of knowing, both personally and professionally. He was so knowledgeable in all aspects of banking and business, and he was a very good friend to discuss anything from sports to personal issues. He worked his last year at the Financial Center, where I work, and we would talk nearly every morning. I told him I was getting my 'wise words of wisdom' for the day, and he would just laugh. I will never forget those times."
Candy Hall, Vice President/Senior Risk Officer
"Ernie was a man of great intellect. He was very knowledgeable about not only banking but the world in general. He was a great leader for FNB because he knew what direction to take the bank and how to pull people together to make it happen. As an employer he was compassionate and concerned about his employees. As a friend, I respected and trusted him."
Steve Henna, Senior Vice President/Chief Lending Officer
"Ernie was able to take what seemed to be the most complicated matters and simplify in ways that all could understand and usually agree upon. I truly appreciated his friendship and mentoring for over 25 years. I was fortunate to have had the opportunity to observe his insight and understanding over many years. His leadership shaped The First National Bank and me personally. His dedication to FNB was inspiring as he continued participating with board and committee responsibilities throughout his illness. Over the years when a difficult situation would arise while he was out of the bank someone would frequently say 'I wish Ernie was here he'll have the answer.' Yes, I wish Ernie was here."
Jerry Schukar, Vice President Information Systems
"When Ernie was involved in a project, you had confidence it was going to be done right. You knew that he had put in the time to research the issue, looked at it from different angles, and would have a good plan to implement. He was a decision maker but always welcomed input from others and was a good listener.
Away from the bank, be it golfing, playing cards, or whatever – he was always just one of the guys. You could razz him just like anyone else – and you were expected to. To this day he remains the only golfer I have ever seen take a full swing off the tee box and actually catch the ball in mid-air before it hit the ground."
Mike Radliff, President/CEO
"Ernie Chappel had the rare ability to listen as if my issue were the most important item on his agenda at that moment. He was able to get to the root of the problem then provide a solution or perhaps two to help.
Ernie, as great leaders can, did three things when approached with a problem. One, he made sure we agreed on the issue and course of action. Two, he had an encouraging word or – let's call it constructive suggestion or perhaps criticism if he determined necessary given the situation.
Three, he offered his assistance in the future, put the First National Bank in a positive light, and ended by asking about my family."
The directors, officers and employees of FNB will long cherish Ernie Chappel's leadership and friendship. Founded in 1865, The First National Bank has locations in Vandalia, Ramsey, Patoka, Mulberry Grove and Greenville
###