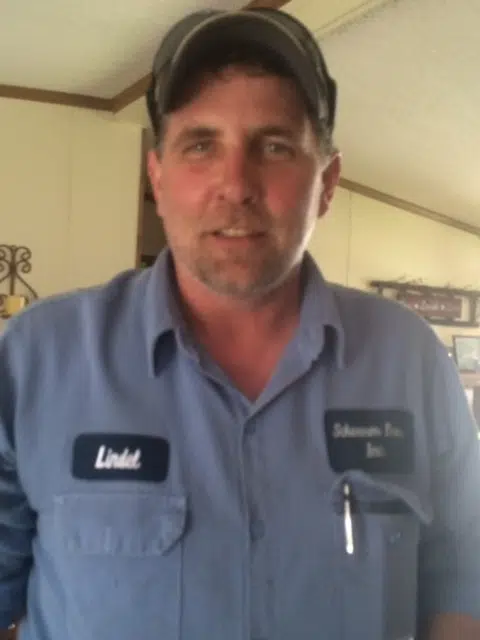 Lindel M. Schwarm, 45, of Farina passed away at 10:35 AM, Saturday, December 31, 2016 surrounded by family at his parent's home.
A Funeral Service for Lindel will be held at 10:30am, Tuesday, January 3, 2017 at Liberty Christian Church, rural Brownstown with Pastor Mickey McCammack officiating. Visitation will be held from 5:00-8:00pm, Monday, January 2, 2017 at Liberty Christian Church, rural Brownstown and 1 hour prior to services at church Tuesday. Burial will follow services at Mt. Carmel Cemetery, rural Brownstown. Memorials may be made to the Fayette County Cancer Fund or Mt. Carmel Cemetery. Arrangements by Hohlt & File Funeral Home, Vandalia, IL. Online condolences & obituary available at www.hohltandfilefh.com
Lindel Schwarm was born October 20, 1971 in Vandalia, the son of Bob and Faye (Sefton) Schwarm. He graduated from BHS in 1989, and was an associate at Schwarm Bros Inc. Lindel was a member of the First Christian Church of Brownstown and a former member of Vandalia Mason's Temperance Lodge #16 and Moose Lodge #1447. He enjoyed golfing, participated in pool leagues and played slow pitch softball; he was free spirited and truly one of a kind.
Lindel is survived by his parents Bob and Faye Schwarm of Farina; special friend Kim Koonce Fitch of Farina; daughter Kinley Grace Schwarm of Farina; step daughters Lexi and Kyrstyn Fitch of Brownstown; brothers Bobby (Brenda) Schwarm of Farina, Monte (Leslie Benhart) Schwarm of Farina; Kyle (Jane Scott) Schwarm of Brownstown; aunts, uncles, nieces, nephews and cousins.
He was preceded in death by his grandparents Ervin and Louise Schwarm and George and Hazel Sefton.