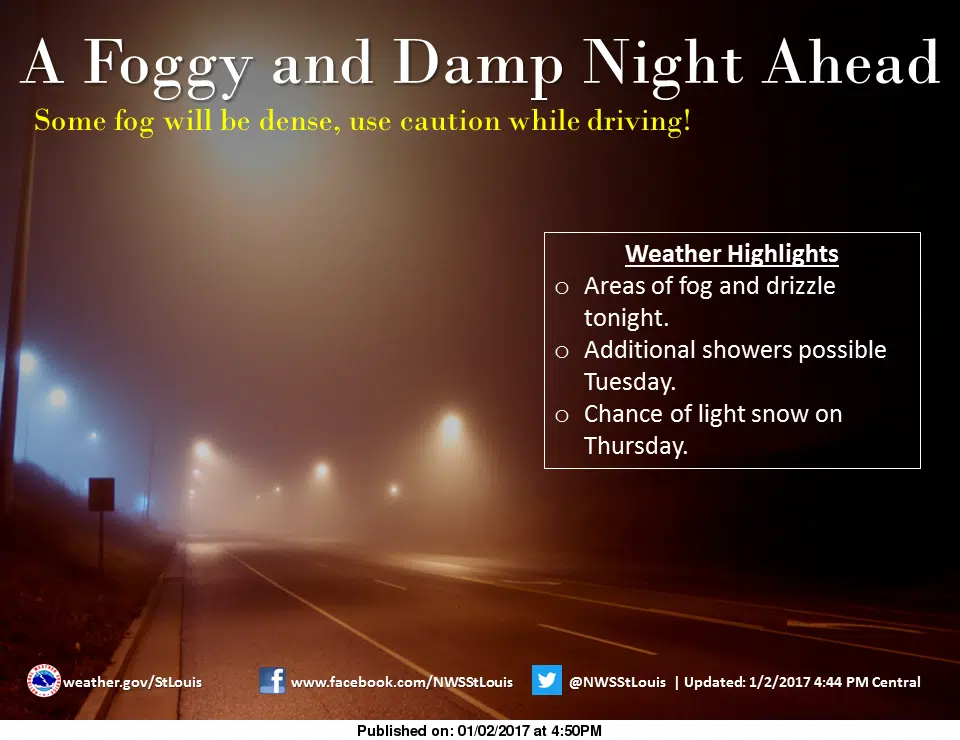 …DENSE FOG ADVISORY IN EFFECT UNTIL 6 AM CST TUESDAY…
THE NATIONAL WEATHER SERVICE IN SAINT LOUIS HAS ISSUED A DENSE
FOG ADVISORY…WHICH IS IN EFFECT UNTIL 6 AM CST TUESDAY.
* TIMING…AREAS OF DENSE FOG HAVE ALREADY FORMED AND ARE EXPECTED
TO PERSIST THROUGH THE NIGHT…WITH IMPROVEMENT EXPECTED AROUND
DAYBREAK WITH A COLD FRONT MOVING THROUGH. FOR SOME
AREAS…RELIEF MAY NOT COME SOON ENOUGH AND THIS ADVISORY MAY
NEED TO BE EXTENDED DEEPER INTO TUESDAY MORNING.
* VISIBILITIES…VISIBILITIES OF ONE-QUARTER MILE OR LESS AT
TIMES ARE EXPECTED.
* IMPACTS…RAPID CHANGES IN VISIBILITY WILL CAUSE HAZARDOUS
DRIVING CONDITIONS.
PRECAUTIONARY/PREPAREDNESS ACTIONS…
A DENSE FOG ADVISORY IS ISSUED WHEN DENSE FOG WILL SUBSTANTIALLY
REDUCE VISIBILITIES…TO ONE-QUARTER MILE OR LESS…RESULTING IN
HAZARDOUS DRIVING CONDITIONS IN MANY AREAS. MOTORISTS ARE ADVISED
TO USE CAUTION AND SLOW DOWN…AS OBJECTS ON AND NEAR ROADWAYS
WILL BE SEEN ONLY AT CLOSE RANGE