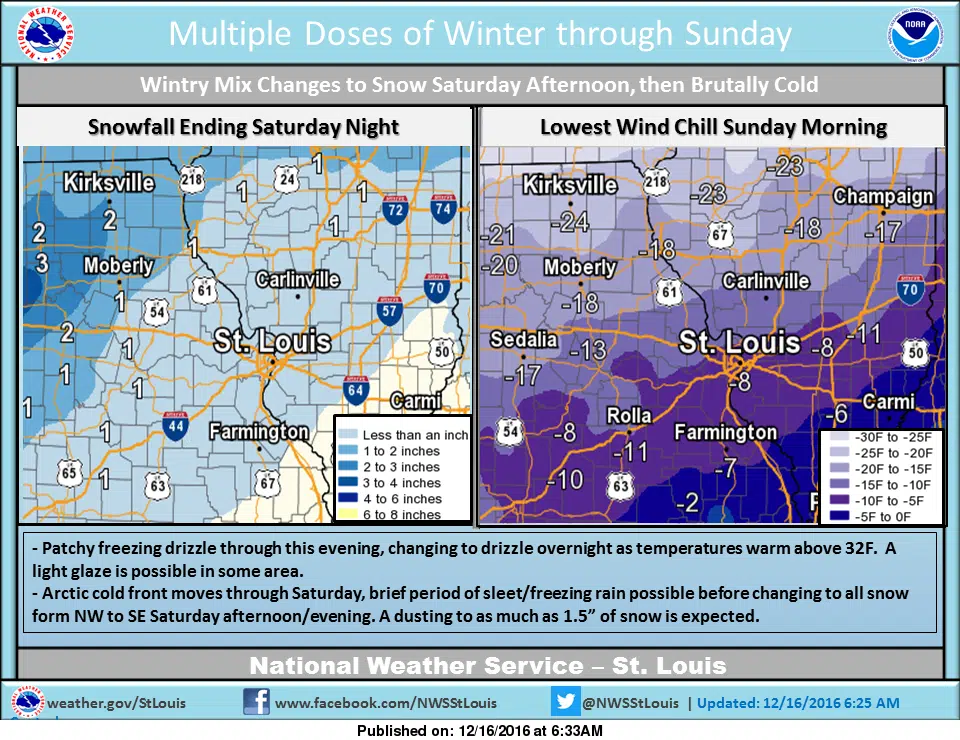 …WINTER WEATHER ADVISORY NOW IN EFFECT UNTIL MIDNIGHT CST
SATURDAY NIGHT…
* TIMING…THE ADVISORY IS IN EFFECT UNTIL MIDNIGHT SATURDAY NIGHT.
* ACCUMULATIONS…SNOW ACCUMULATION OF UP TO 1 INCH SATURDAY
NIGHT…ALONG WITH A LIGHT GLAZING OF ICE.
* WINDS…SOUTHWEST 10 TO 20 MPH WITH GUSTS UP TO 30 MPH TURNING
TO THE NORTHWEST ON SATURDAY NIGHT.
* IMPACTS…THE WINTRY PRECIPITATION WILL RESULT IN HAZARDOUS
TRAVEL CONDITIONS…ESPECIALLY ON BRIDGES… OVERPASSES…AND
UNTREATED ROADS. PARKING LOTS AND SIDEWALKS WILL BECOME
SLIPPERY AS WELL. THE GLAZING OF ICE WILL BE ESPECIALLY
HAZARDOUS SINCE IT WILL BE DIFFICULT TO TELL EXACTLY HOW
SLIPPERY ROADS ARE.
PRECAUTIONARY/PREPAREDNESS ACTIONS…
A WINTER WEATHER ADVISORY IS ISSUED FOR A VARIETY OF WINTER
WEATHER CONDITIONS…SUCH AS SNOW…BLOWING SNOW…SLEET…OR
FREEZING DRIZZLE AND RAIN. IT ONLY TAKES A SMALL AMOUNT OF WINTRY
PRECIPITATION TO MAKE ROADS…BRIDGES…SIDEWALKS…AND PARKING
LOTS ICY AND DANGEROUS. IT IS OFTEN DIFFICULT TO TELL WHEN ICE
BEGINS TO FORM…SO DO NOT BE CAUGHT OFF GUARD.
&&