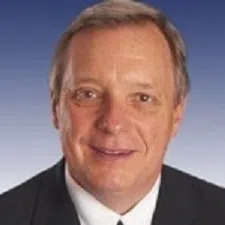 (Urbana, IL)  — Senator Dick Durbin is using his own experience to illustrate how uncivil the Donald Trump campaign is. In Champaign-Urbana for a series of events, Durbin says Trump's claim that the election is rigged and that Hillary Clinton should be in prison are making things worse. Durbin recounted a recent incident in Springfield in which a driver sped up to catch up to Durbin's pickup truck which had Obama and Durbin bumper stickers. Durbin says when the Trump supporter got close enough, he rolled down the window, gave Durbin the finger and spouted something hateful.
###
David Stewart/dlt     IL)   WI)   AR)
Copyright © 2016
TTWN Media Networks Inc.