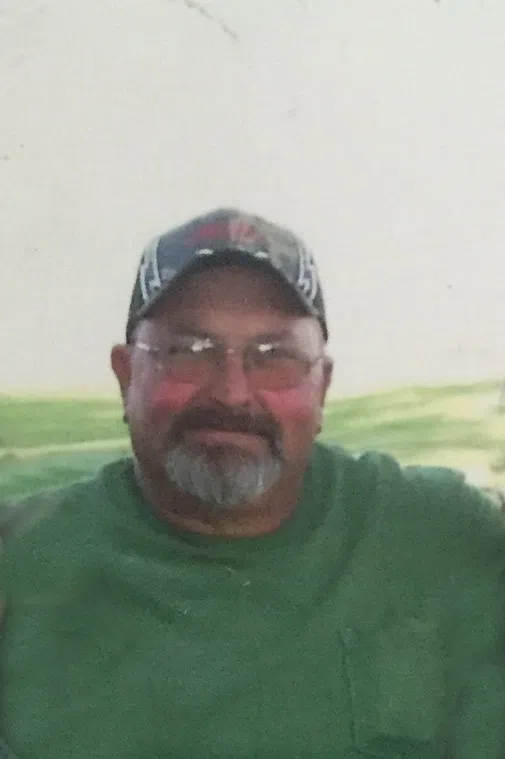 Calvin L. Hill, 59, of Nokomis, IL formerly of Fillmore, IL, passed away Wednesday, September 28, 2016, in Nokomis, IL. 
Services will be held at 10:00 AM, Monday, October 3, 2016, at Grace Fellowship Church in Fillmore, IL with Pastor Myron Kirk, officiating. Burial will follow in Glendale Cemetery, in Fillmore, IL. Visitation will be held from 4:00 PM to 6:00 PM Sunday, October 2, 2016, and 1 hour prior to service on Monday, at Grace Fellowship Church, Fillmore, IL. Miller Funeral Home in Vandalia is in charge of the arrangements. Memorials: Montgomery County Cancer Fund.  Online memories and condolences may be shared with the family at www.millerfh.net
He was  born on May 11, 1957, in Hillsboro, IL, the son of Sollie Lee and Opal May Jones – Hill Lawrence. He married Debra Smith in 1975 and later married Terrisa G. Kirchner on June 28, 2003,  in Fillmore, IL. He was a Heavy Equip. Operator throughout the area, including E&G Construction, Coffeen, IL and loved farming. Calvin was a member of Grace Fellowship Church, Fillmore, IL and a 1975 graduate of Nokomis High School.
He is survived by: Wife – Terrisa Hill of Nokomis, IL; Sons: Jason Hill & Tyra, Jefferson, IN, Cody Hill & Stephanie, Ramsey, IL, Kaden Kirchner, Nokomis, IL, Kenneth Law & Julie, Warren, OR, Johnathan Kirchner & Heather of MO; Daughters – Jovana Jacobson & David, London, England, Mariah Kirchner, Nokomis and Malaina McNeill & Ryan, Nokomis; Mother – Opal Lawrence & John, Fillmore, IL; Brother – Bill Hill, Oklahoma City, OK; Grandchildren – M.J., Braden, Hoyt, Cali, Kassie, Kymber, Kylee, Jasper and Liam; Several Nephews and Nieces.
Preceded in death by: Father.