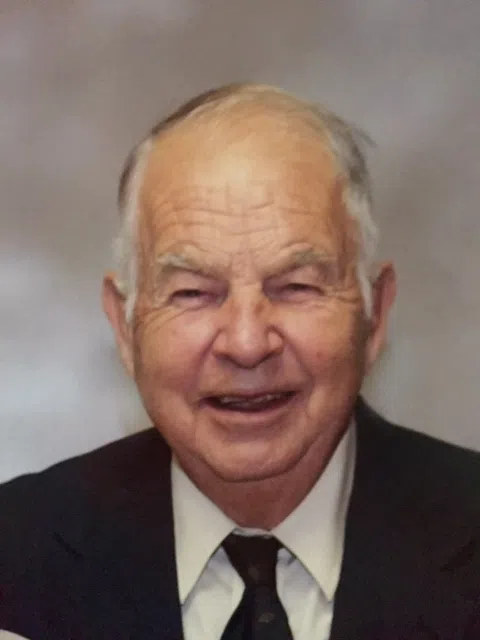 Edwin G. Themig, 88, of Vandalia passed away at 5:45pm, Wednesday, September 21, 2016 at Altamont Lutheran Care Center.
Mass of Christian Burial will be held at 11:00am, September 26, 2016 at Mother of Dolors Catholic Church, Vandalia with Rev. Fr. Barry Harmon officiating. Visitation will be held from 9:00-11:00am prior to Mass. A Rosary will be held at 8:45am prior to visitation at Mother of Dolors Catholic Church. Burial will follow in Fairlawn Cemetery, Vandalia. Memorials may be made to Mother of Dolors Catholic Church, Second Chance Animal Rescue or Altamont Lutheran Care Center. Arrangements by Hohlt & File Funeral Home, Vandalia; online condolences available at www.hohltandfilefh.com
Ed was born March 21, 1928 in Garretson, SD, the son of Edward and Jennie DeRue Themig. He married Lela M. Gulbranson December 28, 1948. Ed was the Oil Movement Manager for ShiCap Pipeline, he was a member of Mother of Dolors Catholic Church, Knights of Columbus, he served on Vandalia City Council for 16 years, and was part of the Cursillos movement.
Mr. Themig is survived by his wife Lela Themig of Vandalia; sons Jim (Rita) Themig of Niantic, CT, Mike (Debby) Themig of Vandalia, Pat (Jamie) Themig of Albuquerque, NM, Dan (Karen) Themig of Calgary, Canada, Jerome (Joanie) Themig of Jacksonville, and Mark (Brad) Themig of Helsburg, CA; daughters Sue (Charlie) Williams of Collinsville, JoEllen (Mike) Wehrle of Vandalia, Jeanne (Kevin) McDonald of Ft. Collins, CO; 25 grandchildren; 41 great grandchildren; 2 great-great grandchildren and a sister Lois Valen of Woodbury, MN.
He was preceded in death by his parents and sister Virginia Gunderson.