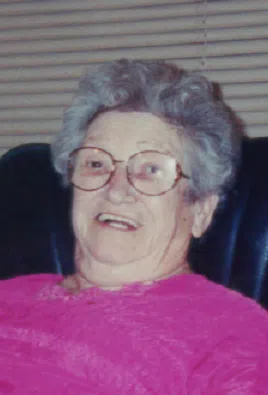 Lorena Bell Prather (Walker), age 92, passed away peacefully at 11:33 a.m. on Sunday, September 18, 2016 at St. Clara's Manor in Lincoln, Illinois.
Funeral service will be at 2:00 p.m. on Wednesday, September 21, 2016 at Pagel Funeral Homes in Edgewood, Illinois. There will be a one hour viewing prior to the service. Burial will be at Edgewood Cemetery in Edgewood, Illinois. Memorials may go to the donor's choice. Online condolences may be expressed at www.pagelfuneralhome.com
Lorena was born on December 23, 1923 in Effingham, Illinois, the daughter of William and Carrie (Ledbetter) Walker. She married Verl Roy Prather on February 16, 1944 in Edgewood, Illinois. She belonged to the White Shrine, Eastern Star and the Disabled American Veterans Auxiliary. She worked at Brown's Egg Plain in Farina, IL, Norge in Effingham, IL and retired from Lincoln Developmental Center with over 30 years.
She is survived by her son, Roger Prather (wife Joyce) of Lincoln, Illinois; daughter, Peggy Payne (husband Tom) of Lincoln, Illinois; two brothers, Tom and Bob Walker both of Watson, Illinois; two sisters, Sally Rush of Watson, Illinois and Louise French of Watson, Illinois; 11 grandchildren; 23 great-grandchildren; 4 great great-grandchildren and several nieces and nephews.
She was preceded in death by her parents, William and Carrie Walker; husband, Verl Prather Sr.; two sons, Roy Lee Prather and Verl Renis Prather; daughter, Stella Marie; brother, Lee "Bill" Walker; three sisters, Glenna Arnold, Albina Jameson, and Lenora Rainey