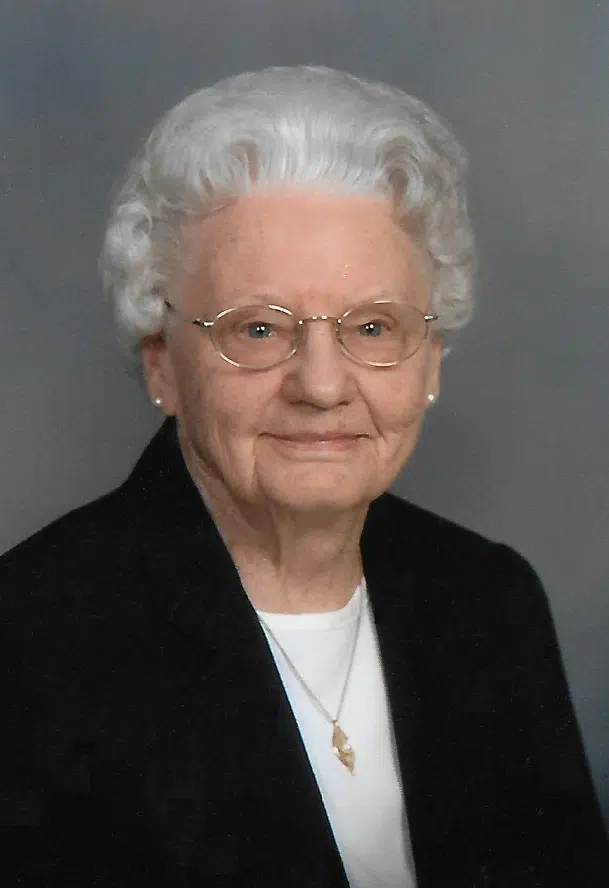 Selma L. Quade, age 99, of Edgewood, Illinois passed away at 6:07 a.m. Friday, August 19, 2016 at the Lutheran Care Center in Altamont, Illinois.
Funeral Services will be at 11:00 a.m. Wednesday, August 24, 2016 at the St. Peter Lutheran Church in St. Peter, Illinois with a two hour viewing prior to service. Reverend William Emrick will be officiating. Burial will be at the Arborcrest Memorial Park Cemetery in rural Effingham, Illinois. Memorials may be made to the Lutheran Care Center, St. Peter Lutheran Church or the donor's choice. Condolences may be expressed at www.pagelfuneralhome.com
Selma was born on December 22, 1916 in Farina, Illinois, the daughter of August and Rose (Engeljohn) Storck. She married Harold Thomas Quade on August 18, 1938 at the St. Peter Lutheran Church in St. Peter, Illinois. She was a member of the St. Peter Lutheran church since January 21, 1917 at which time she was also baptized by Rev. A. F. Neuendorf and confirmed on August 10, 1930. She was a member of LWML, the St. Peter Lutheran Church Ladies Aid and was a 4-H Leader. She loved gardening, quilting and spending time with her grandchildren.
She is survived by her son, Gerald Quade of Edgewood, IL.; one daughter, Carolyn Willenburg (husband Wayne) of Edgewood, IL.; two brothers, Merle Storck of Farina, IL. and Earl Storck of Altamont, IL.; 5 grandchildren, Mark Quade, Pam Germer (husband Dean), Kyle Willenburg, Kara Willenburg (husband Michael Hanft), Kilby Willenburg (wife Megan) and 9 great grandchildren, Kelcie Quade, Elise Germer, Maxwell Germer, Cora Germer, Barret Willenburg, Wes Willenburg, Lucia Willenburg, Ila Willenburg and Yael Hanft.
Selma was preceded in by her parents, August and Rose Storck; her loving husband, Harold Quade; one son, Larry Duane Quade, who died in infancy, two sisters, Leona Wolff and Helen Stock; one daughter in law, Carolyn Quade; one sister in law, Frances Storck; two brother in laws, Edgar Wolff and Richard Stock and one grandchild, Marie Dorothy Quade.