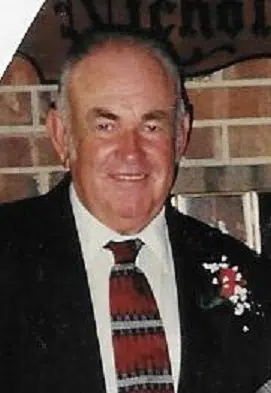 Marvin J. "Tiny" Nichols, 80, of Vandalia, Illinois, passed away Wednesday, August 17, 2016, at St. John's Hospital, Springfield, IL.
Graveside Services with Military Rites will be held at 11:30 AM, Saturday, August 20, 2016, at Fairlawn Cemetery, Vandalia, IL, with Pastor Robert Francisco, officiating. Visitation will be held from 9:00 AM to 11:00 AM, Saturday, August 20, 2016, at Miller Funeral Home, Vandalia, IL. Memorials: To the Family; Shriners Hospitals For Children and/or Ronald McDonald House. Miller Funeral Home, Vandalia, IL, is in charge of arrangements. Online memories and condolences may be shared with the family at www. millerfh.net.
He was born March 3, 1936, in Vandalia, IL, the son of Robert Joseph & Minnie May (Boaz) Nichols. Married Patricia Darlene "Patsy" Condo on July 17, 1959, Toledo, IL. They enjoyed 57 wonderful years together.
He worked for Hodson Bros. & the City of Vandalia Street Dept. for many years; was Owner/Operator of Nichols Blacktopping & Trucking for over 45 years. At other times, he drove a school bus and the local train. Tiny was remembered by many as the  "man with the pink hat". His family were first and foremost to him. He worked hard to provide for them and was a mentor to many kids over the years and was a friend to everyone, was the happiest when he was driving trucks. Tiny also enjoyed playing Santa Clause for many years. He was a member & deacon at First Christian Church; former member of Temperance Lodge #16 AF & A.M.; Shriner for many years; and a US Army Veteran – Reserves for 6 years.
He is survived by: Wife – "Patsy", Vandalia, IL; Daughters – Debbie Ochu & Ron, Girard, IL, & Kathy Critcheloe and Vicky Blackerby & Rob, all of Vandalia, IL; Brother – Bob Nichols & Nancy, Ballwin, MO; 5 Grandchildren – Joe Critcheloe, Audra Critcheloe, Chelsea Blackerby, Chase Blackerby  & Roman Durand; and many nieces and nephews.
Preceded in death by: Parents; Sisters – Lela Barnes, Roberta Nichols and Linda McQuade.