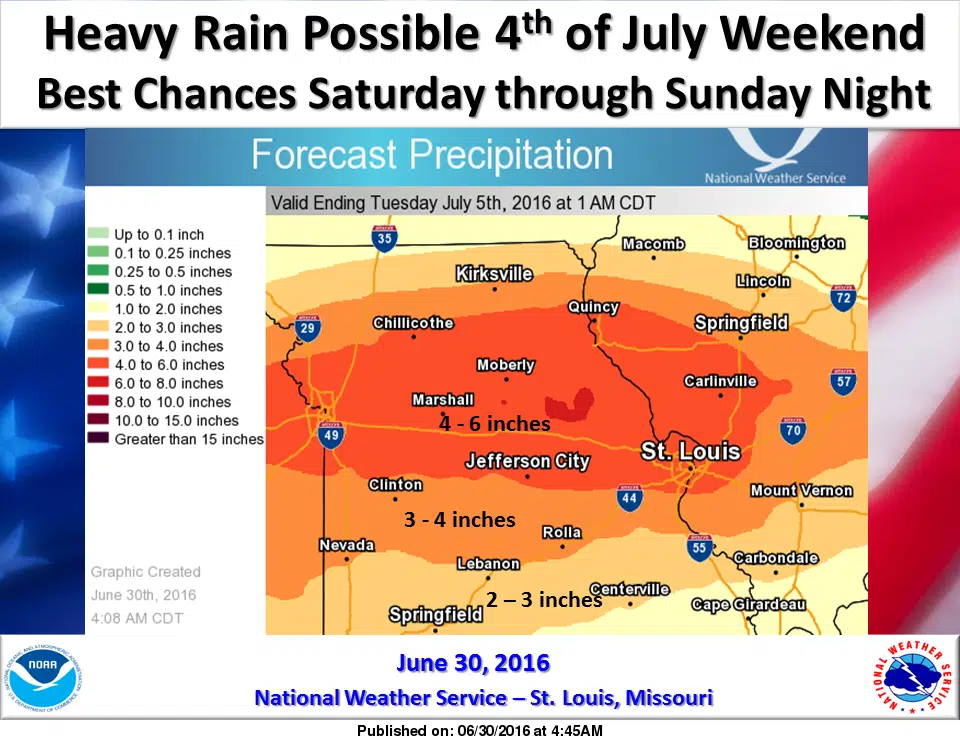 …HEAVY RAINFALL AND FLOODING POSSIBLE THIS HOLIDAY WEEKEND AND
INTO INDEPENDENCE DAY…
AN ACTIVE WEATHER PATTERN WILL UNFOLD THIS WEEKEND WITH NUMEROUS
WAVES OF SHOWERS AND THUNDERSTORMS EXPECTED OVER A PROLONGED
PERIOD FROM SATURDAY INTO MONDAY MORNING. THE LATEST DATA SUGGESTS
A WIDE BAND OF HEAVY RAINFALL WILL BE FOCUSED ALONG AND NORTH OF
INTERSTATE 70…ENCOMPASSING THE NORTHERN TWO-THIRDS OF MISSOURI
AND MUCH OF SOUTHWEST AND WEST CENTRAL ILLINOIS. THIS INCLUDES THE
ST. LOUIS METRO AREA…COLUMBIA AND JEFFERSON CITY…HANNIBAL AND
QUINCY…AND SALEM AND VANDALIA. EARLY ESTIMATES ARE THAT WIDESPREAD
RAINFALL AMOUNTS OF 4 TO 6 INCHES ARE POSSIBLE…WITH LOCALLY
HIGHER AMOUNTS.
THESE HIGH RAINFALL TOTALS…COULD LEAD TO FLASH FLOODING OF
CREEKS AND STREAMS…AS WELL AS OTHER LOW-LYING AREAS AND URBAN
LOCATIONS. FLOODING ON SMALLER RIVERS MAY BE POSSIBLE AS WELL.
ALL PARTIES WITH ANY TYPE OF OUTDOOR INTERESTS…ESPECIALLY THOSE
NEAR CREEKS…STREAMS…AND RIVERS SHOULD CAREFULLY MONITOR THE
LATEST WEATHER INFORMATION FROM THE NATIONAL WEATHER SERVICE FOR
THE REMAINDER OF THIS WEEK AND INTO THE WEEKEND.