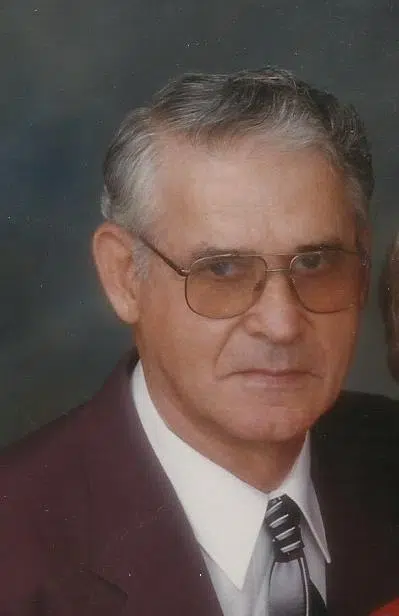 Donald "Don" Edward Koonce passed away at 6:16am, Tuesday, June 28, 2016 at Fayette County Hospital Long Term Care.
A Funeral Service will be held at 2:00pm, Thursday, June 30, 2016 at Hohlt & File Funeral Home, Vandalia with Rev. Don Thomas officiating.  Visitation will be held from 12:00 noon-2:00 pm, Thursday, prior to services.  Burial will follow in Forbis Cemetery, rural Brownstown with military rites by Crawford-Hale American Legion Post #95.  In lieu of flowersmemorials may be made to Emmanuel Methodist Church or Forbis Cemetery.
Don was born October 12, 1931, the son of Roy and Merena Ester (Jay) Koonce.  He married Mary Louise Lofland, the love of his life, on April 14, 1950, for 59 years, she preceded him in death on April 21, 2009.  The two had only one child live to adulthood.
Don was inducted in the US Army on February 12, 1952 and assigned to the 931st Engineer Aviation Group. Don served during the Korean War; he received several awards; Bronze Service Star for Summer-Fall 1952 campaign, Winter 1953 campaign, and Summer-Fall 1953 campaign, United Nations Service Medal, and National Defense Service Medal.  He was honorably discharged from the US Army with the rank of Corporal (T) on November 12, 1953.
Don was a hard worker and provided for his family.  Some of his jobs were working at the Vandalia Bakery, hauling milk, working for the Liberty Gas Station and Taylor Construction and later he was the owner operator of Koonce-Garrison Construction.
He was a member of the Emmanuel Methodist Church in rural Brownstown.  He and his wife Mary enjoyed going to different churches to sing.  Don wrote the lyrics to several religious songs that were recorded.
Don was a devoted husband, father and grandfather.  He loved his whole family, church family and neighbors. He appreciated all the visitors that came to see him at Brookstone and Long Term Care; he especially enjoyed seeing his great grandson Brock and around 4 weeks ago he was able to see his newest great grandson for the first time. He was so happy and had the biggest smile on his face.
Don will be missed by his family and friends, but God will have a good man in Heaven.
Surviving family include Don's son Jim Koonce and wife Jackie of Carterville; granddaughter Jamie Michele and husband Michael Foster of Mt. Zion; great grandsons Brock and Jake Foster of Mt. Zion; brothers Harold Koonce of Mendota, Bob Koonce of Gibson City, and Keith Koonce Litchfield; sisters
Dorothy Gerhart of Raymond, Aline Trulock Raymond, Arlene Gerwolls of Monroe City, IN, and Linda Sue Townsend of Vandalia.
Don was preceded in death by his parents, wife, infant daughter Patty, and brother Bill.