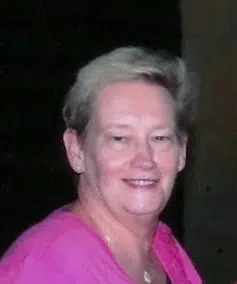 Gail Anne Cocagne, 61, of Vandalia passed away at 6:08am, Tuesday, June 14, 2016 at her home in Vandalia.
A Celebration of Life will be held at 11:00am, Friday, July 1, 2016 at Northside Christian Church, Vandalia with Rev. Carl Rhodes officiating. Visitation will be held from 9:00-11:00am prior to services at the church. Burial will follow in Fairlawn Catholic Cemetery, Vandalia, IL. Memorials may be made to Northside Christian Church. Arrangements by Hohlt & File Funeral Home, Vandalia; online condolences available at www.hohltandfilefh.com
Gail was born September 29, 1954 in Vandalia, the daughter of N.E. "Pat" and Norma L. (Barrett) Wright. She married John David Cocagne on February 2, 1974; Gail worked as a cook at Vandalia High School and was a member of Northside Christian Church.
She is survived by sons Patrick Cocagne and wife Toni of Auburn, IL, Nicholas Cocagne of Vandalia, IL, and Timothy Cocagne and husband Will Lonnemann of Indianapolis, IN; daughters Michelle Daniels of Columbia, IL and Jennifer and husband Tapan Virvani of Indianapolis, IN; brother Doug and wife Debbie Wright of Vandalia, IL; grandchildren Luke, Anne, Jaidyn, Marcus, Aubrey, Zoe, Jett, Alex, Ashley, and Alexis; brother in laws Charles Cocagne and wife Dixie of Ann Arbor, MI, Bill Cocagne and wife Susan of Chicago, IL, Phil and wife Deb Cocagne of Champaign, IL; sister in laws Sara and husband Bill Schnell of St Louis, MO, Mary Ann Adkins of Kearney, MO, Becky and husband Walter "Happy" Holliday of Daphne, AL, and Carol and husband Paul Herzberger of Cape Girardeau, MO; 19 nieces and nephews.
She was preceded in death by her parents, husband, son-in-law Christopher Daniels, brother David Wright, brother-in-laws Wayne Adkins and Douglas Cocagne.