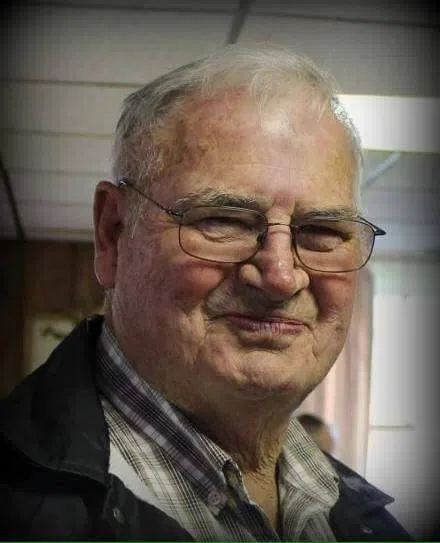 Rex M. Carroll, 79, of Ramsey, IL, passed away Monday, May 30, 2016, at Memorial Medical Center, Springfield, IL.
Services will be held at 11:00 AM, Saturday, June 04, 2016, at Ramsey Christian Church, Ramsey, IL, with the Pastor Terry Sapp, officiating. Burial will follow at Ramsey Cemetery, Ramsey, IL, with Military Rites. Visitation will be held from 4:00 PM to 8:00 PM, Friday, June 03, 2016, at Ramsey Christian Church, Ramsey, IL, with Masonic Rites at 7 P.M. Visitation will also be 1 hr. prior to the service on Saturday.
Memorials: Ramsey Fire Dept. First Responders, Ramsey, IL.
He was born on October 12, 1936, in Nokomis, IL, the Son of John Carmen and Iola Fern (Craig) Carroll. He married Janet Fern Hicks, August 23, 1958, in
Hillsboro, IL. He retired after 31 years from the Norfolk & Western/Southern & Nickel Plate
Railroad and was a retired officer at the Vandalia Correctional Center, Vandalia, IL; He was a member of the Ramsey Christian Church and Former member of First United Methodist Church, both of Ramsey, IL, Vandalia Moose Lodge #1447, & Clover Leaf Masonic Lodge, Herrick, IL (50 Years). Rex was also a US Army Airborne Veteran, serving in Germany.
He is survived by: Wife – Janet Carroll, Ramsey, IL; Sons – Len Carroll & Candy, Macon, IL, Tony Carroll, Ridgely, TN and Charlie Carroll & Melissa, Ramsey, IL; Daughter – Julie A. Carroll, Vandalia, IL; 10 Grandchildren; 10 Great Grandchildren; Brothers – Charles Carroll, Nokomis, IL; Ed Carroll, Bradenton, FL and Lynn Carroll, Oconee, IL; Sister – LaWanda Anderson, Nokomis, IL.
Preceded in death by: Parents; Brothers – Cecil, Jim and Russ Carroll;
.