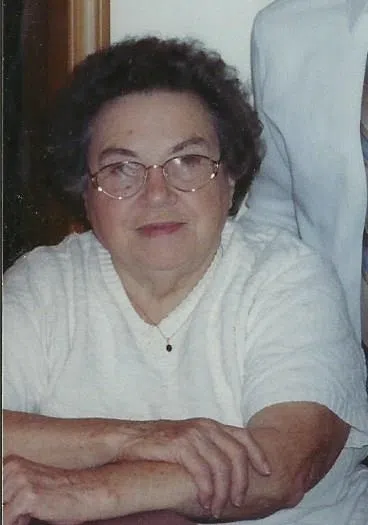 Caroline Annie Murray, 91, of Vandalia passed away on Thursday, May 26, 2016 at Fayette County Hospital Long Term Care.
A Funeral Mass will be held at 11:00am, Tuesday, May 31, 2016 at Mother of Dolors Catholic Church in Vandalia with Rev. Fr. Barry Harmon and Rev. Fr. Joseph Havrilka officiating. Visitation will be held from 9:00am until time of service at the church. Burial will follow in Mother of Dolors Catholic Cemetery. Memorials may be made to Fayette County Health Dept. Hospice or American Legion Post #95 Vandalia. Arrangements by Hohlt & File Funeral Home, Vandalia; online condolences available at www.hohltandfilefh.com
Caroline was born November 28, 1924, in Stonington, IL, the daughter of Thomas and Annie (Gillespie) Letcher. She married Leo E. Murray on December 26, 1945 in Stonington, IL. He preceded in death September 9, 2003.
Mrs. Murray was a homemaker raising 6 children, she was a member of Mother of Dolors Catholic Church in Vandalia and the American Legion Auxiliary. She often volunteered at the American Legion, American Red Cross Blood Drives, and for the Summer Lunches for Kids Program in Fayette County as a sandwich maker. She loved spending free time making pies, gardening, card parties, and spending time with family and friends.
Mrs. Murray is survived by her sons Leo E. Murray Jr. and wife Bonnie of Vandalia, Ronald J. Murray and wife Carol of Vandalia, and David M. Murray of Terre Haute, IN; daughter Rita A. and husband Frank Holzknecht; sister-in-laws Margaret Pieper and Kathryn Roth; 11 grandchildren; 29 great grandchildren; 2 great-great grandchildren; 3 step grandchildren; 5 step great grandchildren; and 6 step great-great grandchildren; and several nieces and nephews.
She was preceded in death by her parents, husband, son Lawrence "Larry" Murray, daughter Ellen Brown, 2 grandsons, 1 granddaughter, brothers Tom Letcher Jr., George Letcher, and Earl Letcher.